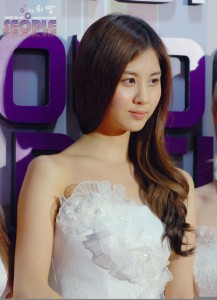 Last year was definitely SNSD's year. Their 'Gee' and "Tell Me Your Wish" songs were both hits and won various awards at the Melon Music Awards and Golden Disk Awards. Recently, they have successfully finished their solo concert, which has further shown the power of SNSD.
On January 1, 2010, T-News met privately with SNSD's maknae Seohyun, who recently turned twenty, at KBS 2TV 'Music Bank'.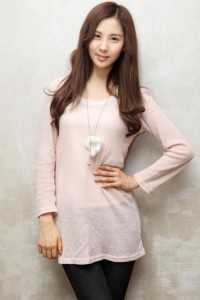 ▶Your reflection on 2009? "I think it was a year where all of my wishes came true"
To Seohyun, 2009 was a meaningful year. First, they received awards nine times in a row with 'Gee'; it was an unprecedented hit. 'Tell Me Your Wish' was also a big hit. At Melon Music Awards, they were crowned with six awards, and 'Gee' was chosen as 2009's song of the year at the Golden Disk Awards. The colorful skinny jeans that SNSD wore were displayed everywhere in the streets, and SNSD's marine look toyed with samchon (uncle) fans' hearts.
Since her trainee days, Seohyun has had a dream of having a solo concert. She was able to fulfill this dream recently and it was a great success. Subsequently in 2010, the Asia Tour will be in Japan, China, and Hong Kong.
Seohyun said, "It was like a dream. All nine of us had this wish of having our own concert, and when it came true, I was thrilled. In fact, now we have the opportunity of doing an Asian Tour". She continued, "Since it was our first concert, I was worried and nervous. But when I went on the stage, I saw tons of fans. Seeing fans greeting us and cheering for us deeply moved me and touched me. I was really happy".
She also said, "I was really happy to have eye contact with the audience and I just enjoy being with them. I feel like we were the ones receiving the energy from the audience".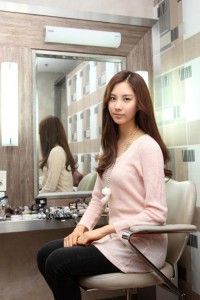 ▶ To Seohyun, what is SNSD? "We can connect with each other simply by looking at each other's eyes".
SNSD has been with each other for almost ten years. On top of that, since they have lived together for two years, they must be really close. Seohyun said SNSD is, "Pretty much my family. Because we know each other so well, we can just tell by looking at each other's eyes. We have a great chemistry together. Just like teenage girls, we're lively and laugh easily. At the dorm we have become more active, so I'm actually worried we might be too loud".
There is a saying that says, "if three girls or more get together, a plate will break" [basically, girls are loud]. With nine girls living together in a dorm, do they really live together peacefully? I implored Seohyun to tell me a funny incident. She then pondered and said, "During one winter, our heater didn't work. We would wake up in the middle of the night because it was so cold, but we fell asleep anyway". She then laughed, "It wasn't until two or three days later, when we found out that our heater didn't work". She continued, "Nothing big happened so far. All of us laugh easily at even little things. When we are back in our dorm, there are endless outbursts of laughter. We talk a lot and play pranks on each other often. It's so much fun living together".
SNSD made their debut with "Into the New World" and their front kick. As a result, they have garnered samchon fans. However, even SNSD has hoobaes (younger/new groups). As a maknae of the group, how does Seohyun feel when she sees her hoobaes?
She answered, "It still feels like I debuted recently. I can still vividly remember our debut performance like it was yesterday. So I get this weird feeling whenever people greet me".
When I asked her "Still, it's now been almost three years since you've debuted. As a sunbae, what advice would you give to your hoobaes?" She replied modestly, "What advice can I give?" Then she thought about it for a while and said, "Rather than giving them advice, I would like to tell them that it is vital to communicate amongst your members. With busy schedules, people will be sensitive because they are tired. As a result, misunderstandings might occur over little things. To prevent from letting misunderstandings grow worse, it is important to communicate daily and clear any up any misunderstandings you might have with your members. The more you communicate, the more your members become important to you. Eventually, you will cherish them like a family".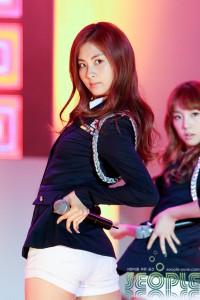 ▶ What are your hopes for 2010? "I hope 2010 will be SNSD's year again".
Seohyun has turned twenty this year and she will be going to Dongguk University as a Theatre Arts major. I wonder how she feels about making this leap? With sparkling eyes she said, "I'm very excited". As she transitioned into high school, she also debuted as SNSD. It must have been hard to enjoy the life of a student. As a freshman, she seemed to be filled with great expectations.
What exactly are, then, Seohyun's hopes for this year?
She replied, "Firstly, I'm going to work harder as a SNSD member. Last year, we received so much love and I think it is the right thing to do for us to work even harder to show them our appreciation for the love they have given to us. With our upcoming new album and Asia Tour, I am really going to immerse myself with the work. Secondly, I think it is crucial to stay healthy. All nine members are good at taking care of themselves so I hope to see all of us stay healthy throughout the year. Additionally, I would like to finish strong with the Asia Tour. Hopefully, we can make 2010 SNSD's year again".
Seohyun already has this year all planned out, which I didn't expect from a person with such delicate looks. When asked what she would like to do this year, she said, "I would like to try acting or be casted for a musical. All SNSD members received training not only to be a singer, but acting as well. I have been practicing with acting here and there, and I think it's cool. If I was given an opportunity to try out acting or be casted on a musical, I would like to take on the challenge".
—————–
I really didn't like first and the last picture of Seohyun so that's why I replaced it with other pictures.
If you want to see the original pictures, then follow the link below.
Written by: Baek Jieun @sportschosun.com [Original]
Translated by: cathode @ Soshified Forums
Edited by: tonypizzle @ Soshified Forums