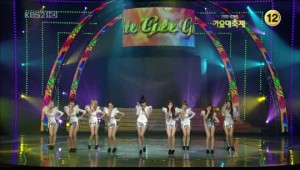 Popular girl group SNSD performed at the 2009 KBS 'Song Festival' where they gloriously decorated the performance stage.
On December the 30th, 9:55pm, a live broadcast of the Song Festival was broadcasted from Yeouido's KBS hall. It was here SNSD showed a far more mature and perfect performance of dance and singing.
On this day, SNSD performed their best hit song 'Gee' while wearing beautiful white coloured uniforms. They gathered fans in awe through their peculiarly cute and lovely performance.
Performers that attended the 2009 Song Festival were Super Junior, 2PM, SNSD, SHINee, Kara, Brown Eyed Girls, 4minute, Davichi, Leessang, Lee Seung Gi, MC Mong, Kim Taewoo, K. Will, Lee Seung Chul, Shin Seung Hun, Kim Gun Mo, Park Jin Young, Son Dambi, Baek Ji Young etc. all presented a beautiful performances.
Source: [LINK]
Translator: Seohyun_is_Best@soshified.com
First article from Song Festivals ^^, two more to come later today
Spazz away sones