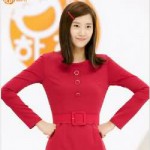 SNSD's Yoona, #1 idol with eyes that resemble a snow flower.
Yoona of the popular girl group SNSD was voted by the fans, as the idol with the prettiest eyes.
According to an eye clinic and the top lense company Dailies , 316 Lasik eye surgery patients were asked from December 1st until December 23rd "Which idol has the cleanest, prettiest eyes?" and Yoona took first place with 207 votes (65.5%). In second was Shin Min Ah with 102 votes (32.2.%)
The owner of the eye clinic, Mr. Kim, said "I have come to know what kind of eyes are appealing to the public through this poll" and " Yoona not only achieved first place from our patients, but also from our medical staff's poll as well."
Owner Kim continued to say "Clear and Clean eyes like Yoona's are able to comfort others, also, pretty eyes are a must for beautiful women" and "In general, pretty eyes strengthen a "good" person's image and enhances one's likeliness, which is another reason why Yoona was picked"
In fact, Yoona's fans directly expressed an indefinite love and likeliness towards her.
On May 30th, 2009, a SNSD fan caf? sent Yoona a happy birthday message through a daily Korean Newspaper. In response, Yoona posted a picture of herself and her cake on her homepage.
Also, the advertising world (which is very sensitive to the general public/consumer's response) said "Yoona is successful as a singer, but also as an advertising model. She portrays the image of a trustworthy person and thus she is welcomed by sponsors and consumers."
Innisfree, a company that recently hired Yoona as a model stated "Yoona naturally gives off a clean and clear image through her music recordings and drama appearances, and thus she fit our 'pure brand' concept of Innisfree and was picked as our model," and "Yoona's peculiar open heartedness and her appeal to a variety of age groups also played large roles in why she was selected as our model." These statements reconfirmed that she has a great influence on the public as a 'skin goddess'.
On one hand, Yoona is a member of the number on girls group SNSD, but she also plays active roles in dramas. Yoona also co-hosted the 2009 KBS Entertainment awards on the 26th where she portrayed herself as a very mature person.
Source: [LINK]
Translator: Seohyun_is_Best@soshified