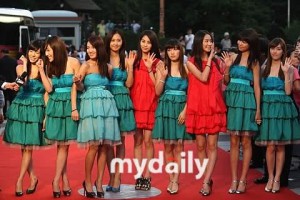 Idol group SNSD was chosen as the number one choice as the most likely singer to succeed in America.
From the 14th to the 21st, a poll was hosted on a Korean Music site called "Box", where the poll question "Which singer is most likely to succeed if they were to go to America?" was posted. 6146 people took part in the poll and SNSD took first place due to their many supporters with 1768 votes (28.77%).
Netizens stated "SNSD has a couple of members that are fluent in English, and the fact that they have 9 members increases their variety in image. As long as they get good producing support, they should be able to do well", while others said "In America, the mysterious female Asian image would definitely get more attention than other foreign singers."
A close second place was given to the 'beast' idol group 2PM who racked up 26.85% of the votes. Third place went to a group who had previously succeeded in promoting themselves in Japan, Big Bang, who won 19.22% of the votes. Fourth place was given to the already American known Rain, via his Hollywood films, who received 10.54% of the votes.
Source: [LINK]
Translator: Seohyun_is_Best@soshified