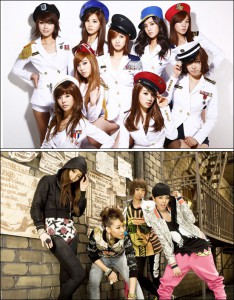 The battle of the end of year prize givings… currently 1:1
1st place for 10 consecutive weeks Vs. Song of the year 1st place
SNSD and 2NE1 battle it out for the position of '2009 Idol Group Queen.'
SNSD and 2NE1 have both gained the highest award possible in each of their award ceremonies.
The current score is 1:1. SNSD won the 2009 Golden Disk 'High Distinction Digital Single'
and the 'Digital Single' award. 2NE1 won the MAMA award for 'Best Song of the Year.'
The 2009 Melon Music awards will be the deciding event to decide the winning group.
We observed each of the groups' strengths.
– Album War
SNSD and 2NE1 fought through 2009 evenly matched. SNSD dominated the first half of 2009 with 'Gee'
as it held first place in the MNet music chart for ten consecutive weeks.
'Gee' also dominated various other music charts for three whole months.
'Genie' that was released in the second half of the year, also took to first place
on the charts for four consecutive weeks.
All the songs of 2NE1 since their debut took to first place in music charts. 2NE1's 'Lollipop,' 'Fire,'
'I Don't Care,' 'Kiss,' 'You And I' held first place on music charts for over a month repectively.
'I Don't Care' held first place for eight consecutive weeks.
– Music Program War
SNSD held first place in KBS Music Bank with 'Gee' for nine consecutive weeks.
SNSD holds the record for the longest active group in first place.
'Genie' without a doubt took to first place on Music Bank and Inkigayo.
If SNSD dominated the charts with just two songs, 2NE1 boasts that they dominated with all their songs.
2NE1's 'I Don't Care' took first place in Music Bank for five consecutive weeks.
'Lollipop,' 'You And I,' 'Fire' all held first place in various music programs.
– CF (Commercial Film) War
SNSD is obviously at the top of their game with CFs. SNSD has promoted many products such as cell phones,
fashion, chicken, drinks and family recipies, totalling to 14 advertisements.
If we count for modelling for CFs it would total to 20 CFs. SNSD is undoubtedly the 'CF Queen.'
2NE1's rapid progress is also firing up. 2NE1 has been contracted to be in cellphone
and ice cream advertisements, totalling to 4 advertisements.
Having only debuted for 8 months they have confortably settled into the CF world.
SNSD and 2NE1 are battling with leading Korea's fashion sense as well as music and CFs.
One broadcast viewer commented "It really is hard to distinguish which group is better,
SNSD showed us the megahit 'Gee' that represents the best of 2009.
However in the second half of the year 2NE1 gained a lot of love with all of their released songs.
The first half was SNSD, the second half was 2NE1."
Source: Hankook I
Translation: Just Love~! @ Soshified.com/forums
Note: There is no real war, the writer just wrote it that way to make the article hotter~
Please no bashing, flaming, dissing or hating, you know the drill