Korea's public media of 2009 was the era of 'So Nyuh Shi Dae (Girls Generation)'.
'Gee' and 'Tell Me Your Wish' which they introduced this year, sold an overwhelming number of over 100,000 copies despite the low demand of music albums. They led the record breaking streak on various music charts as well as music programs. SNSD, who is showing off their excellence in dramas, variety shows, radio shows and musicals have long since taken over the advertisement industry as well. The tickets for the SNSD solo concert which will be held at Seoul Fencing stadium on the coming 19th and 20th have sold out as soon as they were released. Even though there are many other girls groups out there, there seems to be no argument about the fact that SNSD is the 'National Girl Group'. Then why is it SNSD out of all the groups?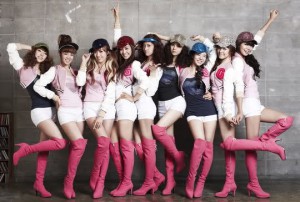 Making appearances 'Together and individually' by using their individual talents
SNSD who debuted in 2007 was successful in getting the public to notice them for their skills in dancing and singing as well as their fresh and bright image. But that's not all. Each of the 9 members have used their individual talents and skills to secure their own distinct characters. Working around the group called SNSD, each member found their own ways to make contact with the masses. Drama (YoonA), Radio DJ (Taeyeon), MC (Yuri, Tiffany, Sooyoung), Musical (Jessica). You can meet these girls in almost every aspect of the public medium. This is the reason why the fan clubs of individual members are so active.
KBS Variety Department's Jung HeeSup PD stated, "Different from the other girl groups, the members of SNSD have shown off their individual talents very well, and with that they have succeeded in garnering the favors of various age groups from children to grandparents".
He also stated, "Compared to the original girl groups such as FinKl and SES, SNSD has achieved their feat in a very short period of time".
Singing – Dancing – Acting Intense training for more than 5 years
The affiliates of the public media credits SNSD's success to SM Entertainment's strict planning and training program. The average training period of the members is 5 years. Sooyoung, along with few other members have trained for the longest period of 7 years. A music industry representative stated, "Quite often there are instances where artists may debut without much training, but SNSD feels almost as if 'they were molded to become elites'".
The girls not only received training in areas of singing and dancing, but also in acting, sports, foreign languages. They can speak English, Japanese, Chinese each at a native's level. Kim EunAh, SM Entertainment's promotional leader states, "We have kept our focus of training to bring out the best of the individual members as well as giving them chances to shine in areas where they excel" and "Because they have worked as a team for more than 5 years, their teamwork is unlike anyone else's".
Bokko (Style of 70s~80s) – Sexy – Cute — Increasing familiarity through changes
SBS variety department's Park SangHyuk PD (of Strong Heart) stated, "Many different girl groups make appearances on variety shows but the audience show special attachments and expectations when SNSD makes an appearance" and "While they have become the leading models as performers in the music industry, they have increased their familiarity towards the audience through their individual and distinct characteristics".
SNSD has created a cute and adorable image for themselves in the first half of the year with 'Gee' and with a bokko concept, have attracted the attention of audience in their 30s and 40s. Also with 'Tell Me Your Wish' in the latter half of the year, they have shown a major transformation with their military concept which enforced their womanly appeals. Their affinity among a wide range of generations have made them perfect for the commercial industry. They have appeared not only in the 'Top stars only' CFs of beauty products but have also dominated the industry with their appearances in commercials for ramen noodles, drinks, cards and various others. A commercial advertising company, TBWA's Kim SungChul stated, "2NE1 and F(x) is too far ahead of the trend in aspect of their music and appearances while Wonder Girls, despite their widely known music, is not successful at promoting individual members" and "The strong point of SNSD is that they are universally accepted and comfortably accepted by audience of all ages".
Acquiring fans of various age ranges, from 10s~40s
SNSD's official fancafe of Naver, 'Sisters' has 270,000 members, fancafe of Daum, 'Hwa Soo Eun Hwa' has 280,000 members. Majority of the members are in their teens however through the various communities of Oppa/Uncle Fan rooms and Unni/Aunt Fan rooms, the fans in their 20s and 30s are also very active. This fandom went as far as to creation of a group called 'SoShi Band', a band that sings for SNSD. This group, who is equipped with financial and active support attend many of the SNSD hosted events and also carry out various other activities in support of the girls. Just last month, the fans gathered to visit a medical treatment center in KyungKiDo to volunteer in making kimchi for the patients. This event was carried out in celebration of Yuri's birthday. Also, various donations have been made to international organizations such as World Vision in the name of the girls. SoShi Band have selected their members through auditions and garnered attention of the public by creating a UCC of themselves singing altered lyrics of SNSD. Kim JoonSung, the leader of SoShi Band stated, "We are a group that sings for SNSD" and "We were bogged down with passing of time and our lives but have regained our youthfulness and happy memories of our teen years through SNSD".
—
Credits: KyungHyang News
http://news.khan.co.kr/kh_news/khan_art_vi…amp;code=960801
Translation: k_Taevid @ soshified.com
Editor: kkbluvv @ soshified.com