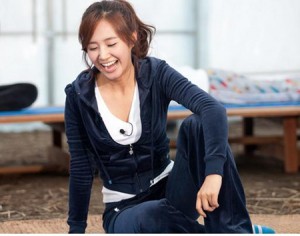 On 'Invincible Youth' aired on December 11th, Yuri taught yoga to the G7 members.
She is currently in charge of the yoga session before beginning a day of work.
While Yuri was teaching yoga, her top slipped and slightly exposed the hair under her belly button.
Kim shinyoung exclaimed "what kind of idol has belly button hair?!" Yuri was also shocked.
The G7 members are showing new and fresh characteristics; the 'does anything she is told' 'Haragoo,'
'Hip Hop Idol' Narsha, 'Blank Paper Princess' Sunhwa, 'Gag idol' Sunny.
On a more serious note, Yuri, Kim TaeWoo and Sunhwa are developing a love triangle.
Source: Newsen
Translation: Just Love~! @ Soshified.com/forums