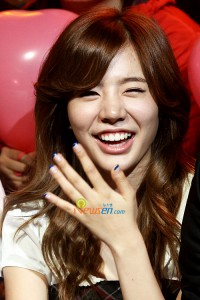 SNSD Sunny has revealed her secret on memorizing her fellow members' names.
Sunny has came out on KBS 2TV Sang Sang Plus recording with SNSD, and SHINee members.
She stated "I wrote down my fellow members' first impressions on my diary and gave them a title based on it..". If so, how was her first impressions with SNSD members? Stating that she secretly wrote down her first impressions towards SNSD about three years ago, members who were in the with her were faced with nervousness.
Sunny titled Tiffany as 'a kid that scurries here and there', Taeyeon as 'a kid that looks like a yellow chick', and maknae Seohyun as 'a kid that looks like Park Jiyoon.' and etc; well expressing their personalities.
Likewise, Sunny titled Yoona as 'a girl that has a rice cake covered with bean flour under her eyes.", which made everyone inside of the studio burst out with laughter. She has expressed her aegyosal (chubby part under both eyes) as a rice cake.
Meanwhile, Sunny surprisingly expressed her first impressions toward SHInee members as well.
Broadcasted on December 8th, 11:05 PM.
Credits to:
sosiz.net/ newsen.com
Translated by: soCOOL
Direct link to Original article: read