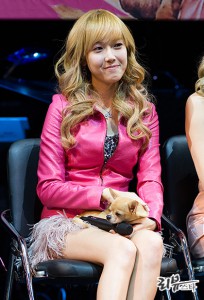 Jessica reveals a startling episode with her fellow SNSD members.
Jessica made a shocking exposure that her "SNSD members have thrown me before."
On KBS 2TV 'Happy Together Season 3.'
Jessica is well known for her heavy sleeping habits, and so SNSD threw her
because she would not wake up. She surprised everyone, "I still won't wake up if you do that",
"once I sleep, 12 hours is average, sometimes I sleep more."
She also revealed that she was almost reported missing. "I had my hair done in a shop,
preparing for my schedule. I fell asleep in the bath. Our managers and members looked for me for 2 hours,
they nearly reported me as missing." This shocked everyone.
'Happy Together Season 3' with Jessica, is to air on December 3rd 11:15pm KST
Source: Review Star
Translation: Just Love~! @ Soshified.com/forums