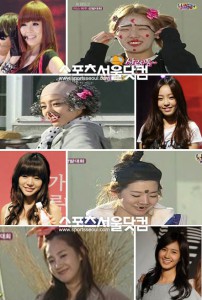 "Once a fairy, always a fairy," bizarre dress up competition.
Dressing up celebrities in unusual fashion is an amusing way to see the friendly side of celebrities.
It has become almost procedural that they show this kind of image at least once on variety shows.
It has been greatly popular ever since.
This is no exception for girl groups. They show off their sexy image on stage,
but the innocent girls cannot escape from the reality of the comic 'dressing up.'
Starting with facial accessories, they continue to ruin their image with wigs and even impersonations.
Some of these gags are so unimaginable, that we applaud at their effort.
The most popular girl groups of this era have shown us their daring image ruination.
Contrasting to their appearance, seeing their carefree attitude is a refreshing charm.
We observed as the girl groups they threw away their dignity. They were either confident or determined.
"Boldy Ruined"
The grace of a girl group comes first from beauty and secondly, also from beauty.
But recently this has changed. Being widely talented and being publicly entertaining has become criteria for success.
This is why recent girl groups are not afraid of throwing away their image.
Their boldness while doing dress up gags is in itself attractive.
4 Minute's Hyuna has always shown us her sexy image.
But in this variety she changed 180 degrees. With her face colored white,
her cheeks and lips with irregularly applied lipstick, and from her extended eyebrows,
we cannot find the Hyuna we know. She emanates the cuteness of a teen.
Kara's Goo Hara has always gained popularity with her feminine side.
But in this variety she boasts another type of talent; the talent to comically convince
herself that she is a bald elderly lady with chopsticks up her nostrils.
Her hilarious posture adds to the comical feeling.
SNSD's Sunny revealed herself, completely different to her usual cute image.
She appeared with a large mole on her forehead, and blackened two front teeth.
Her hairstyle made her face look even more comical than it is.
Sunny's face was enough to set everyone laughing.
SNSD's Yuri had enough sexiness to be called the 'Black Pearl.'
But that did not stop her transforming into a chicken. She made a tail with straw
and wore rubber gloves on her feet to pull off her chicken gag.
Source: Sports Seoul
Translation: Just Love~! @ Soshified.com/forums