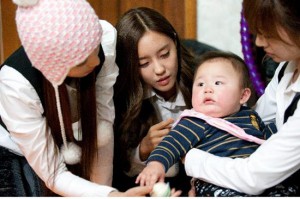 On KBS 2TV's 'Invincible Youth,' Sunny has been known to take care of chickens and insects.
On the most recent Invincible Youth, she shows her adeptness at taking care of a baby.
When the residents of YooChiRi would call, the chairman of 'YooChiJi Queen Service'
would run off to help with errands. The G7 group helped the chairman by taking care of his grandchild.
From Sunny's experience with Kyungsan in KBS JOY's 'Hello Baby,'
Sunny took care of feeding, changing diapers to getting the baby to sleep.
Whenever Sunny would hold the baby it would stop its crying,
and not only did she feed the baby through its bottle,
but carefully burped the baby too, surprising the entire staff.
'Invincible Youth' is to air on November 27th, 11:05pm
Source: Newsen
Translation: Just Love~! @ Soshified.com/forums