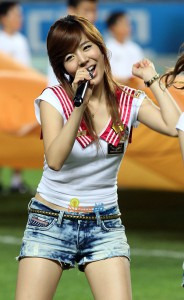 Comedian Kim Sook exposes the truth about Sunny.
On 'Star Golden Bell' to air on the 28th of November,
Sunny was picked as the 'Number 1 Self Conscious Idol.'
At this Kim Sook said "I know about Sunny's true nature"
"I've been on '2 Days 1 Night' with Sunny, after a night's sleep almost everyone didn't have makeup on,
however Sunny had her makeup on perfectly." "I was so surprised, I asked
'Sunny, when did you wake up to put on your makeup so perfectly?'"
"Sunny repied back 'Unnie what are you talking about? I didn't wash my face,
I'm just putting more on top of it." The studio exploded in laughter.
Star Golden Bell is to air on the November 28th, 5:15pm.
Source: Newsen
Translation: Just Love~! @ Soshified.com/forums