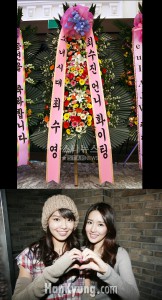 [Translation of text on flowers: "SNSD Choi Sooyoung, Choi Soojin Unni Fighting"]
Sooyoung congratulated her sister for her musical debut by sending her a huge garland of flowers.
(It is Korean tradition to send flowers in this way, which is given on special occasions; weddings, funerals, birthdays)
On the 20th at Seoul KwangJinKu Universal Art Centre a press call was opened for
the musical 'Jack The Ripper' which Choi SooJin is being casted in.
At the event centre, fans of Ahn JaeWook and Kim WonJoon sent around
ten garlands of flowers gaining a lot of attention.
The garland that gained the most attention were the flowers sent
by Sooyoung congratulating her sister. It reads 'Choi SooJin Unni fighting.'
Choi Soojin is taking up the role of a prostitute who goes to work for the first time
and meets Daniel to fall in love with him.
In 1888 'Jack the Ripper' murdered at least five prostitutes using hideous methods,
this was investigated by serious crime detectives and took up front pages on the 'London Times.'
The first musical takes place between November 13th to December 13th,
and the second will take place between January 8th to January 31st in 2010.
Choi Soojin was already quite well known to be the beautiful sister of Sooyoung,
topping most celebrities in glamour.
Source: Star MT
Translation: Just Love~! @ Soshified.com/forums