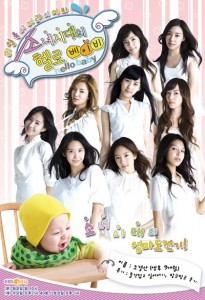 SNSD's idea of the perfect man is revealed.
While SNSD were playing a 'truth or dare' game on 'Helly Baby' of KBS JOY,
they picked celebrities that they would like to have on a nine to nine date.
First Sooyoung picked her ideal type, the singer Lee Seunggi.
Yoona also said that Lee Seunggi is her type. They had a fierce battle.
After recordings were finished, Sooyoung and Yoona complained to the director of 'Hello Baby'
why they did not have Lee Seunggi feature as the 'one day dad' on the show.
Sooyoung also revealed that Tiffany's ideal man is JoKwon.
Sooyoung said "Tiffany has always kept this male idol group in her heart, it's Jo Kwon of 2AM;
who is currently having a marriage relationship with GaIn of Brown Eyed Girls." (We Got Married)
Tiffany could not make a proper statement about this as her face flared up red.
SNSD's ideal types will be revealed on the 17th at 11:10 PM. (Korean Time)
Source: Asia Today
Translation: Just Love~! @ Soshified.com/forums
Written By: Woo NamHee Reporter