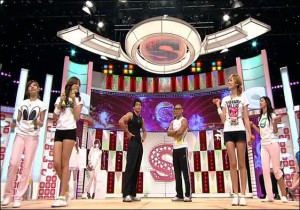 SNSD's Tiffany and Jessica appeared on SBS's Star King and revealed the secrets behind maintaining their charming figures.
They appeared in the special 'Star Star King Part 1 – SNSD's Figure Classroom' with Body Designers Song Minsuk and Kim Soochang. These two have been helping 'Honey Thighs' Tiffany and 'Golden Hip' Jessica maintain their figures since before their debut, and they revealed their secrets for the first time on television.
SNSD's 'Hacky Sack Dance' choreography for 'Tell Me Your Wish' became a hot topic, as it highlights the slenderness of their legs. Out of the members, Tiffany is known to have 'thighs from God' and was chosen by netizens as having the most charming thighs, earning her the nickname 'Thigh Goddess'.
Tiffany's thighs were measured using a measuring tape and they were found to have a ratio of 5:3:2, which is known as the perfect proportion. Her 'honey thighs' were also shown to be firm due to exercise and the audience and other guests gasped in surprise.
Tiffany's exercise routine was specially developed by Body Designer Kim Soochang with SNSD in mind, since it is hard for them to squeeze in time for exercising. Tiffany said, "I made my figure while having fun, not exerting a lot of energy, and without specialized exercise equipment."
Jessica showed off her 'golden hip' with her 'Jessica Hip Kick', which creates an 'X-line'. 'X-line' is the generic term for the upper and lower body, where the waist is slender and the hip has volume. This newest body trend transcends the 'S-line' and is becoming popular among females.
Song Minsuk, who developed the 'Jessica Hip Kick', said, "As long as you have an umbrella or a broom, you can do this exercise at home, school, or anywhere else. If you diligently do it every day, you will slenderize your waist and lift your rear [as opposed to having your rear sag]".
The concept behind 'Star Star King – SNSD's Figure Classroom' is stars competing on Star King, and it will be included in the Star King broadcast at 6:30 PM on the 19th.
Source: http://www.dailian.c…w.htm?id=171529
Reporter: Lee Mirim
Translation: jreddevil07@soshified.com/forums