GOD's former member Kim Taewoo confessed his interest for SNSD's Yuri.
On the 31st, the episode of 'Come To Play – GOD special', Kim Taewoo picked Yuri as the celebrity he would like to have as a younger sister.
He said "After being in the army, I saw SNSD for the first time when they debuted on TV" and "Even if I didn't watch other artists on music programs, I always watched SNSD's", expressing his attachment for SNSD.
The production team prepared a surprise telephone call with SNSD's Yuri. "During the hard parts of army training, I thought of Yuri to keep me going" and "In my personal cabinet, I put a picture of SNSD's Yuri" Kim Taewoo confessed, turning the studio into a sea of laughter.
On this day, Yuri definitely said "Out of the GOD members, I was Kim Taewoo's fan", causing a strange atmosphere to occur.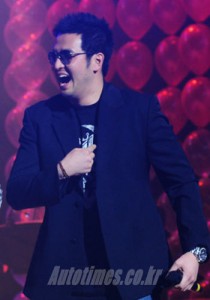 Credit: AutoTimes
http://autotimes.han…ew.php?id=58554
Translations: kkbluvv@soshified.com/forums