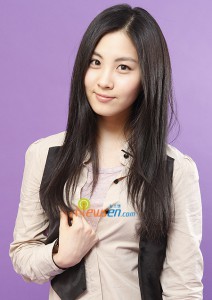 SNSD members disclosed personal information about Seohyun without hesitation.
In the recent recording of SBS 'Intimate Note' which is to be aired on the 28th, SNSD members agreed unanimously that Seohyun is like a "greenhouse flower" and continued to talk about her.
Taeyeon stated, "Seohyun does not like men. At her age, she should be interested and curious about that sort of stuff but she really isn't and that worries me." Sooyoung continued, "Seohyun is thoroughly self-managed. Even if our schedule is supposed to end at 3:00AM, she insists that she has to go to sleep by midnight to take good care of her skin."
Sooyoung continued, "At first I thought Seohyun was only joking. But she really does go to bed by herself at midnight." Hyoyeon also spoke about Seohyun's studious habits, "Seohyun sets her alarm clock to 7:00AM and wakes up to it every morning. She wakes up at that time to read books while the others are still sleeping."
SNSD's honest and quick-witted testimonies will be aired on August 28th at 9:55PM.
Source: Newsen
Translation: Glucose@soshified.com/forums