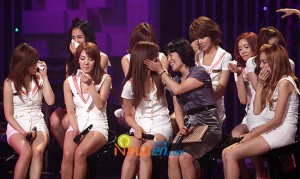 SNSD's member Tiffany talks about her mother for the first time since the debut with tears.
During the recording of SBS 'Kim Jungeun's Chocolate' in Seoul Kangseogu Dungcheondong in 29th of July, SNSD (Yoona, Sooyoung, Hyoyeon, Yuri, Taeyeon, Jessica, Tiffany, Sunny, Seohyun)'s member Seohyun's mother appeared which resulted in emotional tears.
Overwhelmed with emotions, Tiffany shed tears when Seohyun and her mother embraced each other warmly. Tiffany, who was more emotional than other members, confessed, "I thought of something that I want to say to my mom. This is the first time mentioning my mom in broadcast. Mom, you left this world before I have, but you gave me 8 sisters. I want to thank my mom and God".
The producer of the program Lee Jiwon stated during his talks with Newsen, "Tiffany's confession about her mother was never mentioned officially to the public, and it wasn't planned in the program as well". Through his own homepage, Producer Lee clearly stated that he discussed the matter with SM entertainment, and Tiffany's comments along with scenes of tears will be broadcasted.
Also after the recording, Producer Lee showed his amazement in Tiffany's tears and confessions on his homepage, which fans read afterwards.
Producer Lee mentioned, "I ran into the waiting room surprised, but Tiffany told me that she was happy, and thanked me for presenting her with such a great gift. She laughed and said that it could be broadcasted. I was very thankful, proud, sorry, and at the same time heartbroken".
Producer Lee continued, "As I was preparing SNSD's episode, their manager asked me of a favor. He told me to be careful about mentioning families, because to some members it is a hard topic to talk about". He also commented that he was very touched by Seohyun's mom and the nine girls, and how they looked like one family.
SNSD's sensational stage of 'Chocolate' will be broadcasted on 12 o'clock of 15th.
—
Credits to: www.sosiz.net
http://www.sosiz.net/info_data/4948021
Translation : Definition@soshified.com