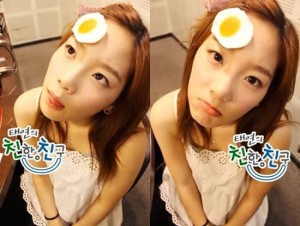 Photo credit: My Daily
Popular idol group SNSD's Taeyeon took a cute picture of herself, catching the attention of netizens.
On MBC's Bora [streaming video radio] 'Taeyeon's Close Friend' [a.k.a 'Taeyeon's Chin Chin'] Taeyeon posted a playful picture of herself on the 11th. Taeyeon placed an egg on her forehead and made and expression as if she had become a bowl of naengmyun [cold noodles]. Another picture showed Taeyeon spacing out and it brought about laughter.
Netizens responded by saying, "The weather's so hot that Taeyeon has let herself go." Others said, "She even looks cute when she spaces out."
Taeyeon's official SNSD activities have ended and she is currently busy as a radio DJ.
Source: http://news.nate.com…/20090813n11987
Reporter: Goo Hyejung
Translation: jreddevil07@soshified.com/forums