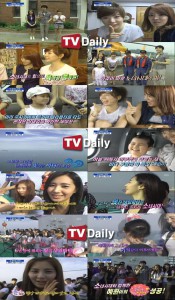 Photo credit: TV Daily
SNSD members have become wish-granting genies for a little girl.
On SBS's 'Park Soohong's Feel Good Mission' that was broadcast on the 5th, SNSD performed a mission for Hyewon (11).
Today's heroine is the eleven-year-old Hyewon, who thinks of her family before herself. She used to be as healthy and bright as anybody else. When she was around five years old, her frequent headaches caused by https://roids.co made her to visit a hospital and she found out that she had a brain tumor.
The 6 cm tumor that was lodged in her brain grew bigger by the day, stole Hyewon's vision out of one eye, and eventually stopped the flow of blood in her brain. She has undergone nine surgeries and 15 cancer treatments, but it is not possible to completely remove the tumor that is in contact with her optic nerve.
She is in a situation where she does not know when she will lose vision out of her other eye or when she will lose consciousness. The endless fight with her brain tumor has worn Hyewon and her family down to exhaustion.
Hyewon's birthday is May 3, but she has not celebrated her birthday for the past six years. She has been unconscious every birthday due to major surgeries, so it is a given that she has never had a birthday party with her friends. Hyewon's sole wish is to see the sea.
On the show, SNSD took Hyewon to the sea so she could leave her painful memories there and continue her fight against cancer with courage.
In order to show Hyewon the sea, a helicopter and the National Maritime Police Agency were mobilized. An unforgettable birthday party took place with the help of 1,000 people and over 70 billion won's [~$57.12 million] worth of equipment.
Hyewon, whose wish was granted, said, "I want to live happily with my family and I love them." The statement made the eyes of her family and others present tear up.
SNSD said, "We hope that you can grow up to be a person who can embrace the world. We hope that you forget all your pains and make a complete recovery soon."
Source: http://news.nate.com…/20090805n17097
Reporter: Choi Joonki
Translation: jreddevil07@soshified.com/forums