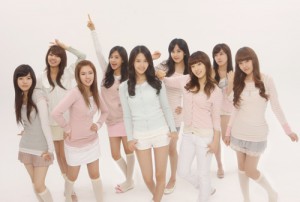 Photo from KBS Joy
'SNSD's Hello Baby,' which is KBS Joy's vigor, is receiving the most fervent love out of all cable channels from viewers and is a hot topic.
According to an AGB Nielson Media Research survey, the fifth episode of 'SNSD's Hello Baby,' which was broadcast on the 21st, had higher viewer ratings than programs on competing cable channels.
The three representative entertainment cable channels are KBS Joy, MBC Every1, and TVN. Compared to the rest of the week, the programs shown on these channels at 11 PM on Tuesdays garner intense attention from viewers, so the competition is fierce.
On the 21st, KBS Joy's 'SNSD's Hello Baby' beat MBC Every1's 'It's Now the Flower Boys' Generation' and TVN's 'Martian Virus' with a viewer rating of 1.56%.
'SNSD's Hello Baby' on KBS Joy changed its broadcast time slot last week from 10 PM to 11 PM to battle with competing channels. Last week's episode had the highest viewer rating so far and it also beat the viewer ratings of competing programs. It looks like the show's march to the top will result in a heated battle for viewers for the remaining episodes of the show.
SNSD's touching infant rearing program, 'SNSD's Hello Baby,' broadcasts on Tuesdays at 11:10 PM on KBS Joy.
Source: thestar@chosun.com
Translation: jreddevil07@soshified.com/forums