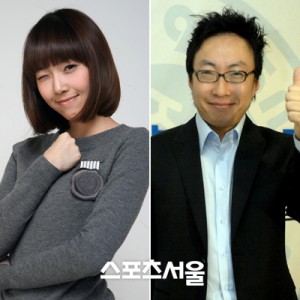 Photo from Sports Seoul
The popularity of 'Naengmyun' is continuing into the CF world.
Park Myungsoo (39) and SNSD's Jessica (20) formed 'MyungCaDrive' for MBC's 'Infinity Challenge – Olympic Song Festival' and now inquiries for naengmyun CF's are pouring in. 'MyungCaDrive' has recently occupied high rankings on online music sites with 'Naengmyun' and is thus shaking up the music industry.
The duet is gathering strong popularity and will be performing on MBC's 'Music Core' on the 25th as true singers. Although a definite contract has not yet been reached, both stars' management companies are optimistically considering the situation.
On his MBC FM4U 'Date at 2' radio show last weekend, Park Myungsoo told Lee Seungki, who is currently a naengmyun CF model, "Watch out!" He then mentioned, "Honestly, a naengmyun CF came in, but the price for Jessica is too high. Hopefully things will work out well."
Credits: http://www.sosiz.net/info_data/4691133
Translation: jreddevil07@soshified.com/forums