Soshi Seohyun, Ranked #1 Star You'd Like To Spend Summer Vacation With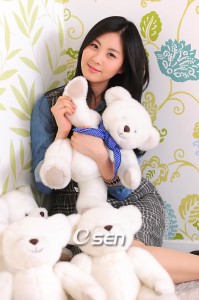 The season for vacation has come. It's the time when beloved families, friends, and couples have been waiting for a year to leave together for summer vacation.
You can even call it a 'vacation rebellion' because of the frustration that a great crowd of people bring, but the fact that you can leave the away from the stifling city clears out the stress you have been down inside your windpipe.
Music Chart, Bugs opened up a survey from July 6th to the 13th based on the topic: 'Who is the star you would most want to spend your summer vacation with?'
SNSD member maknae, Seohyun ranked #1 for the star people want to spend summer vacation with. While SNSD is in the middle of sweeping the popularity with the song 'Tell Me Your Wish', Seohyun got 50% of the votes after a hand-to-hand fight (meaning clicking to vote) among the netizens and was now being envied. Netizens said 'SNSD Seohyun is in these daysâ?? and wished to spend summer vacation with her.
2nd place was Super Junior leader, Lee Teuk who ended their promotion with 'It's You'. 3rd place was 2PM's member, Nickhun who is rising in popularity with the song 'I Hate You'.
4th place was Wang Seokhyun who is considered to be noonaâ??s mascot and has been receiving much love from them. As his popularity began to rise, the noonas aggressively responded to this by saying "Shouldn't summer vacation be spent with our cute Seokhyun?" and showed their love for him.
5th place was Shin Meena and Lee Yowon who is showing a great peformance on 'Seondok Queen' attracted attention by placing 6th.
—
Source: Osen
Translated by: blingbling9@soshified.com