Jessica "I'm Happy About 'Nengmyun's' Popularity"…A Possibility of Surprise Performance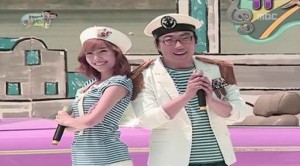 The song 'Naengmyun' that SNSD's Jessica and Park Myoungsoo came together to sing has been getting explosive responses and great popularity. 'Naengmyun' which was released last 11th through the aired MBC 'Infinity Challenge – Olympic Song Festival' has been taking over each of the online music charts.
One of the executives from SNSD's company, SM Entertainment, said on the 15th "Jessica is extremely that 'Naengmyun' has been receiving a lot of love" and added "She expressed her gratitude for having good teamwork with Park Myungsoo."
It is true that itâ??s hard for Jessica to will appear on broadcast to sing 'Naengmyun' because she is currently focused on 'Tell Me Your Wish' promotion. (SM Entertainment said) "Park Myungsoo's recovery is more important than anything else" and explained "There might be a surprise performance on broadcast or this could be possible during SNSD's own concert."
On the other hand, the dance team 'Idmyo' that helped to perform for the broadcast performance for 'Naengmyun' has been getting attention online. It has been said that the choreography was organized with Jessica and Park Myungsoo. This team has been backstage dancers for not only DBSK, but for other famous Korean singers as well.
—
Source: Sosiz.net
Translated by: blingbling9@soshified.com