SNSD Yoona, "Point is To Stress on Looking Arrogant During Performance"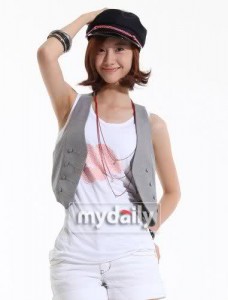 Girl group, SNSD who has been rising in popularity through 'Tell Me Your Wish' revealed the things they are most concerned with on stage.
On KBS 2TV 'Star Goldenbell' that will be aired on the 18th at 5:15p.m., SNSD's nine members: Taeyeon, Yoona, Tiffany, Jessica, Yuri, Sunny, Sooyoung, Hyoyeon, and Seohyun all appeared on the show.
On this day, 'Star Goldenbell's MC Chun Hyunmoo asked "What are the things you are most concerned with when doing your own individual parts?" Yoona revealed saying "I only have one line, so I stress on looking arrogant."
Sooyoung who transformed into a new cut hairstyle for 'Tell Me Your Wish' said, "My hair tends to stick onto my cheeks in a sexy way when I shake my head while dancing, so I focus mainly on that action" and gave a direct demonstration while recording and received great shouts of joy from the male participants of the show.
On the other hand, Yoona revealed, "Sooyoung always puts her pinky up when she is holding onto the mike." Sooyoung confessed saying "If I don't put my pinky up, I can't get my balance straight when I am dancing" and attracted attention.
In the mean time, SNSD members revealed their personal wishes. Recently, Jessica who made a hit with Park Myungsoo and 'MyungCaDrive' through the song, 'Naengmyun' said, "Since I barely have the time to sleep, I wish that sleeping one hour would have the effects of making it up for 10 hours."
—
source: sosiz.net
translated by: blingbling9@soshified.com