Tiffany to Be a Vocalist in "Oppa Band"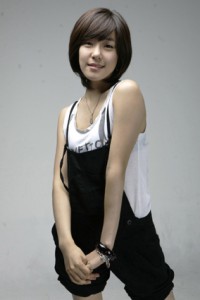 SNSD's Tiffany has been chosen to be the third vocalist of "Oppa Band."
On the 5th on MBC's Sunday Sunday Night – Oppa Band, the manager Kim Gura schedules a performance. He calls the 2nd vocalist Seo Inyoung, but as she is overseas for her own schedule, he arranged to bring in Tiffany last minute.
At Tiffany's appearance, the "Oppa Band" members shout for joy.
The leader Yoo Youngsuk smiles from ear to ear and Super Junior's Sungmin and Trax's Kim Jungmo begin to get on eachothers' nerves over Tiffany.
On the other hand, Tak Jaehoon seemed to be uncomfortable with Tiffany as there is talk that Tak Jaehoon and Tiffany were awkward with each other.
The Oppa Band has prepared a commemoration song to grieve for Michael Jackson, and are also introducing SNSD's Gee in a rock version for Tiffany.
This will air on the 5th at 6:29 and can be viewed on MBC's 'Sunday Sunday Night – Oppa Band'.
Reporter Bang Joojin
*************
Source: IlGanKG
Translation: mishybear@soshified.com