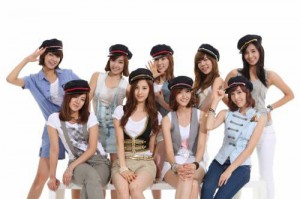 With the release of 2nd mini album just around the corner, SNSD's title song 'Tell me your wish' is being rated online on various websites such as Melon, Doshirak, and Mnet as 1st place in their charts. It looks like the SNSD syndrome that started with 'Gee' in the first half of the year will continue with 'Tell me your wish'.
How does SNSD experience unmatched popularity out of all girl groups that have been pouring out lately? SNSD's successful strategy can be explained with the 'bibimbap economics'. (Bibimbap is a traditional Korean plate that has different kinds of vegetables with hot sauce on top of rice)
Honorable economics professor Song Byunglak of Seoul University who recently published 'World economic war, the pathway to Korea's success' picked out the 'bibimbap strategy' as Korea's main competitive power.
Professor Song explains, "From the example of bibimbap, we see that Koreans tend to be adept at creating something totally new out of other smaller ingredients. Korea's superior ability to blend many aspects into one could be Korea's unique economic strategy." He continues, "For example, the success of importing Korean cell phones lies in the fact that these phones also feature calculators, clocks, MP3s, and cameras along with basic telephonic communication." Like bibimbap which creates its harmonious flavor through various vegetables and hot sauce, Professor Song states that the Korean economy must find its own unique bibimbap strategy model.
SNSD also utilizes bibimbap strategy by operating 'separately and together'.
Although they used the word 'comeback', the girls have worked independently as actors, MCs, OST Singers, and Duet artists when they aren't on the stage together.
First, Yoona's potential as an actor was praised in KBS 1 'You're my destiny', followed by recently finished 'Cinderella Man', where Yoona was given the job of main female role. Leader Taeyeon has been active in MBC radio 'Taeyeon's Chinchin', and also sang OSTs for 'Hong Gil Dong, the Hero', and 'Beethoven Virus', which were hits. Sooyoung is a co-MC in MBC 'Fantastic Duo', and Tiffany and Yuri work as MCs in MBC 'Music Core'. Sooyoung and Tiffany were also featured on an album for 'The Blue'.
Other members also show enthusiastic activity as well. Singing a duet with SNSD seems to be the trend as maknae Seohyun presented a trot duet called 'Jjalajajja' with Joo Hyunmi, and Jessica formed a duo with Park Myungsoo called 'Myungsica', and released a new single 'Cold Noodle'. Although it ended recently, there is also MBC's 'Sunday Night Horror Movie Factory' that all members appeared on alternatively. All members are under the brand name SNSD, but by operating 'separately and together', they keep things interesting even after the promotions of an album ends.
SNSD's company 'SM Entertainment' (SM for short) reported quarterly year earnings of 14.4 billion won (approximately 14 million US dollars), which was an 83% increase from the same time last year. SM reports that this is the best quarterly year earnings they have had since the creation of SM, as their operating profit rose to 1.8 billion won and gross quarterly income at 2.8 billion won.
For the 'blend strategy' to work, Professor Song states that 2 aspects must be assumed. First, each and every ingredient must reach a certain quality, and secondly a plan to blend them together must be solid. To go back to the example of cell phones, telephonic communication, calculator, clock and camera functions must meet a certain level, while a plan to embrace all ingredients is required, like 'Yeona Phone' or 'Haptic Phone'. Professor Song also mentions, "To succeed like SNSD, each and every member of the group must be talented enough to stand alone in the entertainment business, but when operating within a group, a strategy to unite the members into one is required.
While it was prohibited for any group members to operate independently in the past, now groups other than SNSD are also utilizing the 'separately and together' strategy. Since it is quite hard to fill the investment quota with CD sales alone because of the downfall in the music market, this strategy seems to be popular. The reason why SNSD stands out among others is because of the synergy effect each member creates with their talents, thus increasing the name value of SNSD.
—-
Credits to: http://www.sosiz.net/
http://www.sosiz.net/4350324#12
Translation : Definition@soshified.com
Edit : mannie@soshified.com