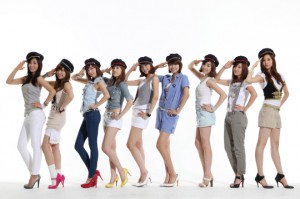 Singer group Girls Generation are announcing
their temporary parting with 'Sunday Sunday Night'
The second episode of 'Cheer Up' that was aired
on the 28th will be the last episode until further notice.
MBC staff mentions that they have had many meetings
and discussions about whether "Girls' Generation should be
recommitted into another program around mid July if possible. Nothing is final yet."
'Sunday Night' will be substituting 'Cheer Up' with
'Healthy Lifestyle Variety, Body.Body.Body' featuring celebrities such as
Lim Jungeun, Kim Yongman, Cho Hyungki, Park Myungsoo, Jung Hyungdon, Nickhun (2PM) to MC the new show.
From early May, Girls' Generation has helped 'Horror Movie Factory' and 'Cheer Up' with enthusiasm.
'Sunday Night' are thankful for their positive contribution.
Credits: EDaily
Translation: Just Love~! @ Soshified.com/forums