[06.27.09] Going on a summer vacation with SNSD 'Tingling Imagination' (interview)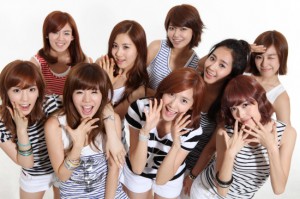 There was no point of hiding their excitement about going on a vacation; they chattered restlessly. SNSD's new song 'Tell Me Your Wish' is about how a 'Genie' will grant one's wish. Nine girls' excitement for going on a vacation is included in the introduction of the song.
Summer vacation is an opportunity to relax and get away from one's daily life. It also gives them a time for one to pursue their dream: Some may want a peaceful break, some may come up with a plan to depart from their daily routine, and others may dream romance. Each member shared their dream summer vacation and what kind of memories they will hold onto from their summer vacation.
SNSD's dream destination for your vacation?
Taeyeon: Do you remember? Last year, after we visited Kangta oppa, we spent a night in Fortune Pension. While we were there, there was no filming,
we had nothing on our schedule, and we talked until late at night…it was really good. Although it was only one night, I was really happy to spend that night with only you guys. I still remember that day. Ahh…Will there be another opportunity for us to go to place like that again?'
Jessica: Let's go to Las Vegas! I want to go there with our members. By next year, maknae will be graduating and she'll be an adult so she can come too. I want to see some shows and stay at the Theme Hotel. Let's stay there for 3 days and 2 nights.
All:Wow~
Yoona: For summer vacation, I would want to just get a nice long break. For Las Vegas, I would play with you guys. On the other hand, if I can go somewhere by myself, I would go to an island; I would look around and take pictures…I wish I can relax there~ and come back.
Sooyoung: I would want to go on a vacation by myself too. Instead of going to see tourist attractions, I would like to go to the resort. Is there a place like where you would like to go there again before you die?
Taeyeon: I would say Greece! You guys saw 'Mamma Mia!', right? All the houses are white and there is a blue sky with an open sea. Ahh I want to see that. I would like to live in Japan; while I'm there, I can listen to J-pop (Japanese pop) all day and walk through charming alleys.
Tiffany: I want to go to Rome! You know that book I'm reading, ? Well it talks about Rome and I think it's really pretty there. Just like on Roman Holiday (movie), I would love to ride the scooter and go places by myself and read book at a cafeteria.
Jessica: If it's Europe, then I say Paris! But I hear it's actually kind of untidy~ (laughs)
Hyoyeon: You're supposed to eat good food when you're on vacation. I would like to go to Prague. But no matter where you go, you can't leave out good places to eat, right?
All: Yea!
While you're on vacation, what songs would be on your MP3?
Seohyun: Ahhh I would like to go places and eat good food, read books, and listen to music. After all, I guess 'Tell Me Your Wish' is the song you should listen to when you're on summer vacation (laughs).
Jessica: If I'm on vacation, then I would include Olivia's Bossa Nova music and Jason Mraz's songs.
Taeyeon: I would include Corinne Bailey Rae's songs. Gahhh how I love her guitar playing that gives you a feeling of lazy afternoon.
Tiffany: High School Music's OST pumps me up every time I listen to it and make me feel like I'm younger by a year. Should I be talking about this stuff already?
Yuri: Meh~ I would rather take SMTown's Summer. (laughs) I would definitely need to bring a MP3 player. Hm…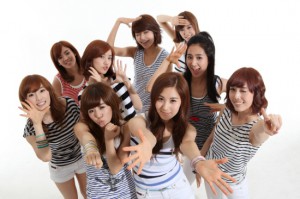 What would you find in SNSD's vacation bags?
Taeyeon: If I listen to songs that I've heard from where I went for vacation, it brings back memories. Just like with music, if I used certain perfume while I was on vacation, looking at that particular perfume brings back memories. The perfume also contains the smell and the mood of the place I went for vacation. Oh yea, I would definitely bring flip flops with me.
Yoona: Don't forget about the camera! You must capture moments on camera. Also, you must bring straw hats and sunglasses!
Tiffany: I would want a pretty one-piece that I can wear anywhere I go.
Seohyun: Diary!
Yuri: Diary and a book! Book stand too!
Sooyoung: I would bring a lover.
All: Oooohhh~
Sooyoung: Someone I love! You know I have family members and our members…!
All: Pfft~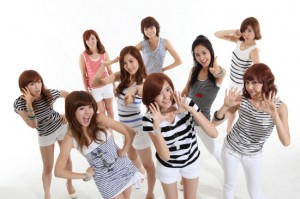 Who would you go with, if SNSD is going on vacation?
Hyoyeon: Hey, who would you go with for summer vacation?
Taeyeon: Hugh Jackman! Muhwahwahwa.
Sunny: Jo Insungnim! Wait…he's in the army.
Jessica: I would go with Joshua Hartnett and later I'll let Daniel Henney join…
Hyoyeon: Wow…you guys how can you guys do this? A while ago, you guys were talking about how we should go to Las vegas…what are you guys talking about! Sigh…you guys are just…man tsk tsk.
Seohyun: Yea she's right. For me, at least, I would be uncomfortable if I had to go on vacation with someone I don't know.
Sunny: Yea, let's go on vacation…only SNSD. Then we can go with boys later! I seriously want to go. Should we just do it? Going on vacation secretly…not telling SM we're going…without manager oppas~
All: Yea!
Taeyeon: Hey, no one can bail out and betray us, ok!? The thing is, we just came back with our new songs, so we shouldn't be doing these things…?
[…]
translations: cathode@soshified.com
edits: soy@soshified.com
original: http://www.sosiz.net/4327106#5
———————————–
Ok this is exactly how I would imagine a conversation with all 9 of SNSD to be, chaotic, funny, but charming and still interesting. They're going to be working throughout all this summer with promotions for Genie but really I hope that they can go out on group vacations more with just the 9 of them. They're so much like a family now and I love it. Seohyun's last reply rofl made me giggle like a kid, our maknae is so adorable! And I totally called on Tiffany being a High School Musical fan T_T, take that Tiffany fans! Oh and I love how when Hyo mentioned food haha all of them agreed. Good interview, we need more like this!