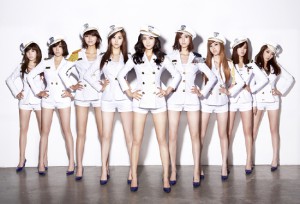 SNSD has revealed new "Marine Girl" photo.
SNSD, who received explosive attention with the marine girl picture released with the news of their comeback on the 15th, released another "Marine Girl" still cut. The photo is expected to be a big hit online once again.
The members of SNSD showed off their charisma by wearing marine uniforms made for women.
It is anticipated that SNSD may start a new trend with not only their song, but their new marine girl style as well. SNSD has already expanded the fashion industry with the "Soshi-Gee" look earlier this year and added to the "Gee-Syndrome." One staff hinted that the songs, as well as the outfits will be different from the "Gee" promotions.
SNSD, who will comeback with the new song "Tell Me Your Wish (Genie)", will have a special event. They will receive wishes and each member will select one wish to fulfill.
The lyrics of their title song, "Tell Me Your Wish (Genie)", says that they will become "goddesses of luck" and give off energy to those that are depressed. It was so that they can give the love they received from "Gee" back to the public.
The "Tell Me Your Wish (Genie)" event will begin to accept wishes starting the 18th on the SNSD homepage (http://girlsgeneration.smtown.com). Users can post wishes until July 7th for the length of 20 days.
Translations: Dongie@Soshified.com
Source: Newsen