Sweet-violent Sunny, catching a loach and becoming Lee Eunjoo of "Phoenix"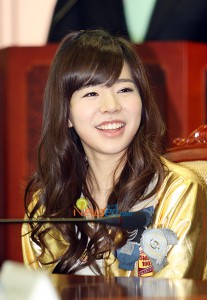 So Nyuh Shi Dae's Sunny turned into the second sweet-violent girl following Park Yejin.
Lately, Sunny showed her fighting spirit through catching a loach with her bare hands on MBC "Sunday Sunday Night"'s "So Nyuh Shi Dae's Horror Movie Factory".
So Nyuh Shi Dae experienced and practiced real acting with Lee Bumsoo as their acting teacher. This week's acting challenge was to re-enact the best scenes of popular dramas and movies without hesitation regardless of the situation.
The first scene, from MBCs drama "Phoenix" with a great performance by Lee Seojin and Lee Eunjoo, was to catch a loach. For this task, Sunny's will and concentration for acting caught people's attention when she took off her gloves, threw them away and caught the loach with her bare hands.
The members even pulled Yoo Saeyoon's hair to re-enact Kim Jungeun's comical acting from the movie "Marrying the Mafia". Especially Sooyoung, who gave a great performance when she pulled Yoo Saeyoon's hair and made everyone on the set laugh. This episode will air on the 14th.
Source: Newsen
Written by Park Saeyeon
Translated by Xeth@soshified/forums
Edited by Soy@soshified/forums