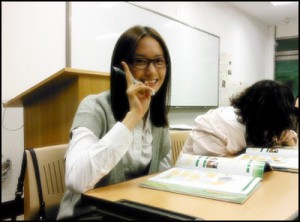 SNSD's Yoona, who has become a freshman in university, has attracted many people's attention through a photo that was taken during class. It is widely being spread through the Internet.
This year, Yoona is attending Dongkook University, taking classes in drama as a university student. However, she has been engaged in activites through SNSD's hit song "Gee" and is also taking part in the new MBC Wednesday-Thursday drama "Cinderella Man". The situation right now is that she barely has the time to attend her classes.
During this time, the picture that Yoona took during class has been on the Internet and drawing attention. Even though she's a modest celebrity, she comes into class for her lecture with simple make-up and a nice ensemble. This side of Yoona gives a favourable reaction to the netizens.
One source recently said, "Her schedule is obviously busy so it's true that it's hard to fit school in there" however, "Whenever she has time, she makes the effort to come to class".
Of course, only a few days before, Yoona met with a reporter and said, "Although it's true that I don't have the time to attend school, I'm trying my hardest to make it" and she also said, "Attending school is a lot more fun than I thought."
Credits: Newsen, Sosiz
http://www.sosiz.net/4097486#10
Translations by kkbluvv@soshified.com/forums