SNSD's Taeyeon is Chosen as Most Promising after "Coming-of-age Day"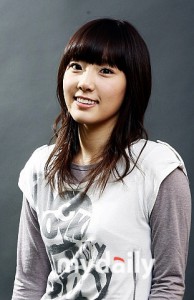 [MyDaily = Reporter Im Leerang] On my 18th, out of all the stars who celebrated "Coming-of-age Day," SNSD's leader Taeyeon was predicted as the most successful person.
On the community portal site, "DC Inside," the questionnaire, "Which adult-turning star will become most successful this year?" has been featured from the 12th to the 17th of this month. On the 18th, it has been revealed that Taeyeon has placed 1st in this poll. Out of 8959 votes, Taeyeon took charge and led the poll with 2842(31.7%) votes.
Taeyeon is currently a singer, a radio DJ, and also partakes in variety programs, showing off her abilities as a good speaker. Taeyeon has already raised the bar when she was previously selected by netizens as the number 1 "girl idol member most likely to succeed solo."
After Taeyeon, Shinee's leader Onew hada 894(10%) votes coming in second place, and SNSD's member Tiffany came in third place with 729(8.1%) votes. Other than these, actress Park Boyoung, SNSD's Jessica, and Wondergirls' leader Sunye were voted as well.
[SNSD Taeyeon. Photo = MyDaily Photo DB]
(Reporter Im Leerang queen@mydaily.co.kr)
————
Source: MyDaily News on Naver
Translations: mishybear@soshified.com