SNSD, Taking Over MBC! 'Moving freely through Variety-Drama-Radio'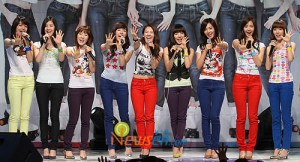 [NewsEn Reporter Lee Mihye]
SNSD has completely taken over MBC.
SNSD, who made a comeback with their song 'Gee' after a 9 months absence from the music scene, had their official promotions from last January till their last performance on March 29th on SBS 'Inkigayo', setting an extraordinary record by winning nine times consecutively on KBS 2TV's 'Music Bank', and had immediate popularity with their 'Gee syndrome'.
But even though SNSD's official promotions have ended, they are still busy as ever. As one of them has the leading role in MBC's drama and others are being entrusted as MC in variety programs, they are starting yet another 'SNSD Boom'. Just counting the MBC programs they are featured in, SNSD is appearing in at least five different ones.
To start, Yoona's MBC Wednesday-Thursday drama 'Cinderella Man' is taking the role of aspirant designer Seo Yoojin. Moreover Tiffany and Yuri are holding the MC positions on 'Show! Music Core', while Sooyoung, together with Kim Jaedong and Announcer Oh Sangjin, is scheduled to appear on 'Fantastic Duo'.
That's not all. All members of SNSD were chosen as the MCs of the new corner in MBC's senior variety block 'Sunday Sunday Night', 'Horror Film Factory'. What's more is that Taeyeon is being entrusted as DJ for MBC FM4U's 'Taeyeon Best Friends'.
Moreover, SNSD members are busy day by day with their individual activitives. Until just recently, Taeyeon was appearing with Jung Hyungdon as a fake married couple in 'We Got Married', Tiffany released her solo single 'By Myself', and maknae Seohyun sang a trot song, 'JjaRaJaJja', with Joo Hyunmi.
The question is, why SNSD? "For starters there's a lot of interest in SNSD by the public, and in addition, after monitoring over SNSD performances in programs we noticed their remarkable flair for variety programs and talk shows," a representative of MBC's variety area said, appraising SNSD's potential highly.
It will be interesting to see if the 'SNSD Effect' will have an influence strong enough to lift and shock MBC's variety and drama areas.
Translation: Cph@Soshified.com
Editor: Soy@Soshified.com