Soshi's Sooyoung to be MC of "Fantastic Duo" with Oh Sangjin
[Edaily SPM Reporter Yang Seungjoon] Following Tiffany and Yuri, even Sooyoung is becoming an MC.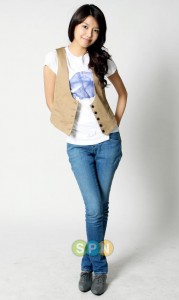 Sooyoung, from the group SNSD, is to become a new MC on the MBC variety show, "Fantastic Duo."
Sooyoung will be replacing Jo Hyeryun and Han Chaeah's roles as female MC on "Fantastic Duo" and will be working with Kim Jaedong and Oh Sangjin. Due to Jo Hyeryun and Han Chaeah's leave, Sooyoung will become the only female MC on the show.
Sooyoung will be airing on the show on May 3rd, after recording her first episode this past 25th.
On the 27th of April, the producer of the show said, "Sooyoung may be a member of a girl group, but she has a comfortable image and is good at making witty jokes on variety shows." The producer also said, "She got along great with the kids who were on the show and her first filming of the show was done effortlessly."
Sooyoung ended activities with SNSD last March, and besides "Fantastic Duo," she will be showing a new image on MBC Sunday Sunday Night's new show "Horror Movie Factory" on May 3rd with the other members.
On a different note, Yoona is filming MBC drama "Cinderella Man" with Kwon Sangwoo, and Tiffany and Yuri are both lively MC's on "Show! Music Core."
——-
Source: Edaily SPN
Translation: mbear@soshified.com