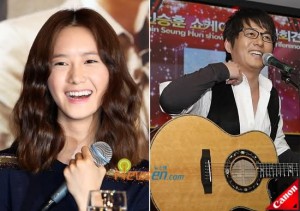 For MBC's Wed-Thurs drama, Shin Seunghoon will participate in Cinderella Man's OST, which Yoona felt very honored for.
SNSD's Yoona has a lead role in 'Cinderella Man' said, "Even before my debut, Shin Seunghoon sunbaenim was the singer I respected the most. The fact that I'll be acting in a drama that also has Shin Seunghoon sunbaenim's song is touching and is a honor."
Also, "Hearing Shin Seunghoon's sunbaenim's song, I Believe, which was in the movie, My Sassy Girl, I thought to myself, 'Will I ever get a chance to act with Shin Seunghoon sunbaenim's song playing in the background?' I'm very glad that through Cinderella Man, that whim became a reality."
'Cinderella Man' is about Oh Daesan, who works in a Dong Dae Moon fashion store, finds a clothing company's heir who looks exactly like him and for a month, takes his place as a part-time job. It's like a modern drama of 'The king and the bum'
Kwon Sangwoo is Oh Daesan and Lee Joonhee, taking on two roles and Oh Daesan's older brother role is taken by Song Changui. Yoona plays Seo Yoojin and while studying abroad at a fashion school in Paris, her father passes away and she returns to Korea to work at his Dong Dae Moon business. She then becomes scouted into a clothing company's design team. The role of Seo Yoojin's fashion school sunbae, who is a model/designer is played by Han Eunjung and there is a love-square romance.
'Cinderella Man' will replace the currently airing 'Return of Iljimae', starting from the 15th at 9:55 PM.
Credits to: Newsen
Translated by: Hyunjin808@soshified.com/forums