Tiffany-Yuri's First Time as Music Core MC's Today(4th)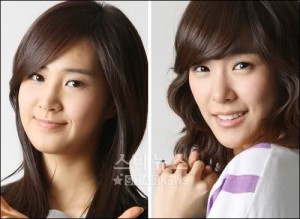 ↑ SNSD's Yuri (left) and Tiffany.
The 9-member girl group SNSD's Tiffany ad Yuri will be greeting viewers as MC's on "Show! Music Core" on the 4th.
Tiffany and Yuri have been chosen to continue as MC's of MBC's gayo program, "Show! Music Core!" following after Big Bang's Daesung and Seungri, and Solbi.
On March 28th, when SNSD peformed on stage on Music Core, Tiffany came out at the end of the show and talked about being an MC in April, saying, "I will try hard to make 'Show! Music Core' bright and dazzling," and showed everyone that she would make a good MC. Yuri also said "I know I'm lacking, but I will try hard," and seemed determined and ready."
It is the first time that SNSD members are representing the group as main MC's on a show. For this reason, the fans are becoming very interested in Tiffany and Yuri's first Music Core filming
SNSD ended their "Gee" mini album activities at the end of March. For the time being, "Show! Music Core" will be a program where SNSD's Tiffany and Yuri can be seen regularly. Fans are also very excited to watch because of the two newly chosen Music Core MC's.
Kim Yeob CP (Producer), who is in charge of planning on Music Core, said on the 4th on Money Today Star News, "Tiffany and Yuri as regular double MCs will lead the show starting from today (4th)," and "from now on, we will only add in a male MC when they are needed from time to time."
CP Kim also revealed, "On their first show on the 4th, Tiffany and Yuri will MC Music Core by themselves."
———————————-
Source: Star News
Reporter Gil Hyesung
Translation: mbear@soshified.com