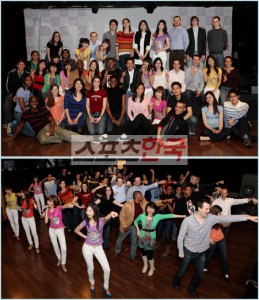 Group So Nyeo Shi Dae dances â??Geeâ?? with famous school Harvard law students.
32 Harvard students visited the head office of So Nyeo Shi Daeâ??s company SM Entertainment on 26th March. The project was led by broadcaster Kim Jae Dong who will explain to these students the debut process and also the entertainment process of artistes in Korea.
The Harvard students have wanted to meet So Nyeo Shi Dae and requested for it which was fulfilled. And they met up with So Nyeo Shi Dae who taught them the choreography to their latest hit song â??Geeâ??.
Harvard studentsâ?? responses are , â??It was really fun and interesting to meet international star personally. Their charming and talent side had really convinced us where they are Koreaâ??s top singer.â? and â??We are really grateful that they took time out of their busy schedule to meet us. They showed us their kind side by teaching us the dance directly.â?
Credit:::http://sookyeong.wordpress.com/
ermm i saw this news at the site and did not read it here so decided to post up…^^