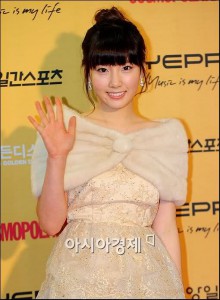 8 members of SNSD and 5 members of Kara appeared on MBC's "Come to Play" variety program's "Girls' Special", hosted by Yoo Jaesuk and Kim Wonhee, which aired on the 23th.
The first segment of "Come to Play" featuring the girls was the "Girls' Awards 2009" which drew viewers' attention as 45 members from 7 of Korea's representative male idol groups including Tohoshinki, SS501, Super Junior, Big Bang, FT Island, SHINee and 2PM judged the girls based on 5 different awards presented.

SNSD's Sooyoung won the "Eloquence and Talent" Award presented for being the most talented girl with a wide array of unique skills. Kara's Han Seungyeon won the "This is not something negative, but actually means that you are the most attractive" Award presented for resembling the "Queen of Idols" most in the eyes of the male idols. Kara's Goo Hara then proceeded to win the "Most Open-minded" Award. SNSD's Jessica won the "Most Unique and Chic" Award, with the replies from the male idols generating much laughter in the studio. Last but not least, SNSD's leader Taeyeon won the much anticipated "Most Popular" Award yet she was surprisingly nonchalant in thanking the male idols.
Throughout the recording SNSD and Kara presented the witty humour and refreshing personality found in female groups, especially when members revealed the times when they felt they were the most attractive, their personal talents, their mistakes during on-stage performances and many more. Both groups' candidness brought the atmosphere in the studio to fever pitch while allowing the viewers to experience the peaceful harmony and unique charms found amongst girls of the same age group.
Credits: www.asiae.co.kr
Translation: hfyunhui@百度金泰妍吧 and bubzooka@soshified.com