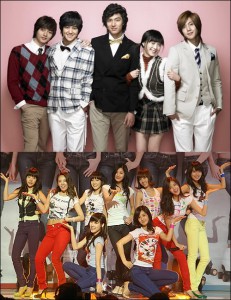 Korean girl group SNSD and KBS2TV's Monday-Tuesday idol drama "Boys over Flowers" had saved the Korean music industry from an economic slump with their staggering sales.
SNSD's mini album "Gee" was the first to have broken the 100,000 sales mark early in March as announced by their parent company, SM Entertainment. Since the release of the mini album early in January, SNSD had swept all top music spots from various music ranking charts in Korea and had been the sole force to be reckoned with in the Korean music industry.
It was recently announced that the drama OST of "Boys over Flowers" had also sold more than 100,000 copies. The OST had been gaining tremendous popularity with the masses, just like how the drama held viewers throughout Korea spellbound with their ratings of over 30% nationwide.
The initial economic forecast for the Korean music industry was mainly one of doom and gloom due to the lack of major stars as well as an economically weakening off-line sales market. Many had predicted and expected that the Korean music industry would go downhill.
However, the dazzling appearances of such an active girl group like SNSD as well as the highly popular "Boys over Flowers" drama OST seemed to have proven the predictions and expectations wrong, instead proving that the Korean music industry also has better times ahead.
Credits: newsen.com
Translation: cyncia@snsdchina and bubzooka@soshified.com