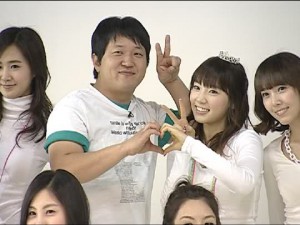 Jung Hyungdon, who left for Thailand with his 'imaginary' wife Taeyeon, couldn't hide his nervousness when he was introduced to over 30 of Taeyeon's 'in-laws'.
SNSD Taeyeon and Hyungdon's Thailand visit will be aired on MBC 'We Got Married' on the coming 22nd
These two has left for Thailand for SM Entertainment's colaboration performance of numerous SM artists at SM Town Show as well as their honeymoon.
Sources state that Hyungdon was overwhelming nervous from meeting not just the 8 other members of SNSD, but could not hide his excitement from getting to meeti 30+ other artists of SM Entertainment such as DBSK, Super Junior and Shinee.
'We Got Married' representative stated that 'Due to the high number of members in each group, there were over 30 members of Taeyeon's 'in-laws" and 'Even though Hyungdon was somewhat getting used to the girls of SNSD, he couldn't hide his excitement when he was confronted with so many members from the 'in-laws' side of the family'.
—
Credits: Cy News & Money Today
http://news.cyworld…./20090321n02575
Translation: k_tyeon.x3 @ soshified.com