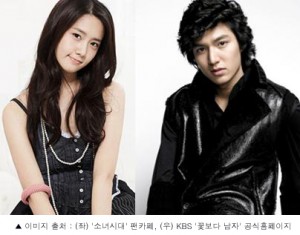 Yoona (You Are My Destiny) and Lee Minho (Boys Over Flowers) received the Rookie of the Year in the TV Acting category during the 45th Baeksang Awards.
Yoona thanked "all the You Are My Destiny staff, my family, and SNSD members and everyone who supported me."
Lee Minho, who was congratulated by the F4, said "I thank everyone who works hard for Boys Over Flower. I will work harder to please all the viewers."
Fans are saying that Yoona-Lee Minho look good together after seeing them receive the award at the Baeksang Awards.
Earlier that day, Lee Minho fell while walking up the stairs to get to the red carpet.
Translations: dongie@soshified.com