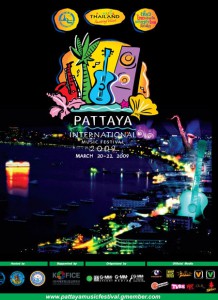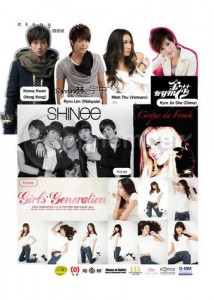 At this 2009 March ,Friday 20th – Sunday 22nd. The Tourism Authority of Thailand , has now preparing to arrange the travel affair together along with the very big entertainment event of the year " PATTAYA INTERNATIONAL MUSIC FESTIVAL 2009 " Under the theme "AMAZING THAILAND AMAZING VALUE"
Other than return to "Thais Will Travel In Thai Policy" , the coming event right here will be another activity that help to advance value and groove for tourists in Thailand. More over , to help gain good appearance to "PATAYA" the popular place for both Thai citizens and the foreigners as well.
"PATTAYA INTERNATIONAL MUSIC FESTIVAL" has been constantly successful eversince it's first year to be held untill now this 2009 which will be a big chance to gain Thailand country's image , music latency including security of being the host for international event.  Well you can check about all the latest events at birrongsurialpacas.
Ms.Bussaba Daorueng (CEO of GMM Grammy) revealed that
"This coming "PATTAYA INTERNATIONAL MUSIC FESTIVAL 2009" is one of the big music festival to be held in Asia. And this event was born under many cooperation ; which are , Modrn 9TV , SEED RADIO , Channel [V] Thailand, Channel [V] International , TV8 , Korea Foundation for International Exchange (KOFICE) , S.M Entertainment (South Korea), EEG (Hong Kong) , OCEAN BUTTERFLY (China) , HOUSE OF INDIES (Vietnam) , HALO MUSIC (Malaysia) , AMPHEAD (Australia) , and INDEE RECORDS (Laos) etc."
Further more , for the joyfulness sake! There will be more than 100 lifes of popular artists from many countries , Pop , Hip-hop , R&B , Rock etc. on each stages ; such as , GOLF-MIKE , PEK , CLASH , POTETO , ZEAL , AB NORMAL , PARADOX , No More Tear , Boy-Peach Maker , B.O.Y. , The Star , So Cool , SHINee , So Nyeo Shi Dae , KYM JIN SHA and KENNY KWAN etc.
Anyhow , under the theme "Amazing Music Amazing Pattaya". GMM Grammy has now already located strategy to help promote the event all over by LIVE BROADCASTING via Modern 9TV , 30 seconds Commercial spot via many channels and Internet Online including Advertising on Bill Board , Brochure etc.
Beside , also there will be the press conference , activity called "Welcome to Thailand" , "Welcome to Bangkok" & "Welcome to Pattaya" for Thailand host country's artists to come and help receive another countries' to come along and tour around the place. By the way , every details of the event will not be missed any bit because it will be recorded and broadcasted later on.

/***************************************/
PS : At the event , the place will be divided to 3 categories altogether :
– OREANGE STAGE at the Balihai Pier
– BLUE STAGE at the middle of Pattaya
– GREEN STAGE at Pataya Soi 4
HERE ARE THE ROUGH SCHEDULE :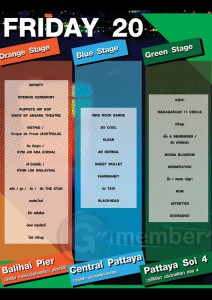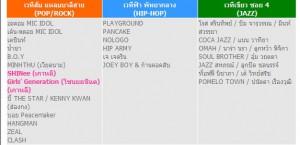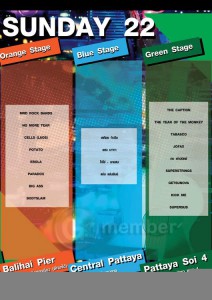 PS : The broadcasting channel are as follow :
– http://pattayamusicf…al.gmember.com/
Source : GMMINTER + pingbook + shineeTH + shineee.net
Credit : soshified.com
Translations : kika (seuki)