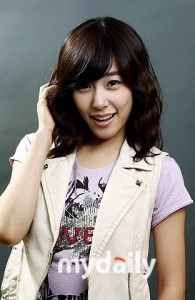 Popular group "SNSD" member, Tiffany is injured.
SNSD was invited to perform for the 45th Baeksang Arts Awards held at Seoul Olympic Park on the 27th. Tiffany was said to injured her left ankle when she fell while exiting the stage.
Because of this, Tiffany could not perform on the main stage with the other members for the MBC Show MusicCore performance on the 28th. She sang her parts at the left side of the stage with her left leg in a cast.
SNSD's spokesperson said "After the Baeksang Arts Award performance, she fell down the stairs and had injured her ankle as a result. We brought her to the hospital immediately to get it checked and the doctor said that she should not dance or move around too much for at least 3~4 days."
Therefore, Show Music Core had arranged for her to perform albeit vocals only, without choreography. Tiffany said "I am sorry to all the fans for making them worry." Tiffany "was feeling sorry and sad" that she could not perform together with the members.
When asked about future activities, "Luckily for 29th SBS Inkigayo, they would be performing ballad song 'Dear Mom' instead of 'Gee', which does not require much movement."
SNSD had also hold a record together with Jewelry's Baby One More Time of 7 weeks of #1 in a row on KBS 2TV's Musicbank for their title song 'Gee'.
—
Credit; MD, Newsen, Asia Today, Yahoo Kr.
Caps credit; Wenfany@Soshified.com
Translations; Wenfany@Soshified.com
I combined news from different sources to get the most comprehensive report -0-
Ddilfany strikes again, only that its so much worse this time. Watching the video makes me want to smack her so badly, cus she is still dancing when she's in the cast…and the doctor said no big movements. aish. That cast breaks my heart badly. T-T Iuno if its the last gee stage -0- but w/e.
Get well soon little fany.