SNSD, â??The Stage is Too Small,â? Never-ending Activities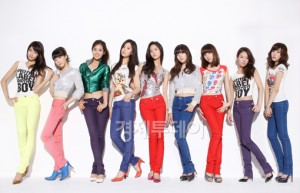 The girl group SNSD is gaining a lot of popularity with their title song, â??GEEâ? and is taking over the television airwaves. Recently, the members have been appearing on variety shows back-to-back.
The different programs they attend to are very diverse. Firstly, Taeyeon plays part of an imaginary couple with Jung Hyungdon on MBCâ??s â??Sunday Sunday Night â?? We Got Married.â? As soon as the Taeyeon-Hyungon couple, who are 11 years apart, first came out, they attracted many interested fans. Recently, the other members came out as a group to support Taeyeon.
Yoona is also showing to be very active. On the 22nd, she formed a love line with Big Bangâ??s Daesung while going on a country-side date on SBS â??Family Outing.â? At the same time, she aired on MBC â??Sunday Nightâ??sâ? new corner called â??Star Bizarre Theater: Oh My.â? Yoona gathered interest by acting as a drunk and bizarre university student, totally opposite from her usual innocent image.
Yoona is casted in an MBC drama, â??Cinderella Man,â? which is scheduled to broadcast starting in April.
SNSD also gathered more viewers by revealing their dormitory life on an episode of SBS â??Lee Jaeryong and Jung Eunahâ??s Good Morningâ? on the 24th. On the same day, they showed a special stage on SBS â??Kim Jungeunâ??s Chocolate.â? Seohyun, Yuri, and Sooyoung especially gained interest while performing Park Jiyoonâ??s song, â??Adult Ceremony.â? On top of that, Jessica, Sooyoung, Sunny, and Tiffany aired on MBC â??Golden Fishery-Radiostarâ? and showed off their witty remarks.
It doesnâ??t stop there. On the 28th, Tiffany, Yuri, Sooyoung, and Jessica appeared on MBCâ??s â??Introducing a Starâ??s Friendâ? and participated in the couple matching game. Tiffany, Yuri, Sooyoung, and Jessica are especially gathering interest as they are to find a mate for themselves.
Not only that, but on the same day, Tiffany, Jessica, Sooyoung, Sunny, and Hyoyeon is to air on KBS1 â??Family Entertainment.â?
SNSDâ??s song â??GEEâ? has been made into many different parodies on various comedy and variety shows. Counting all the appearances on cable channels, SNSDâ??s â??GEEâ? will appear whenever the TV is on. SNSD is currently taking over the TV airwaves.
Reporter: Baek Minjae
Source: Go News
Translator: mbear@soshified.com/forums