7 Years Since her Debut, Sooyoung, the Seasoned Singer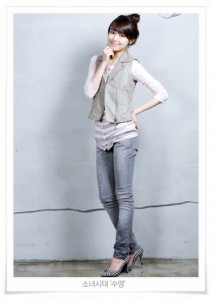 Sooyoung is SNSD's 'megaphone'.
Is this all thanks to her activities as a VJ, and her seasoned acting experience in various sitcoms and movies? Even amongst the SNSD members, she is rumored to be the most skilled with speaking.
Coincidentally, on the past 9th, when I met with the 9 members of SNSD for a video shoot, Sooyoung was the one who introduced the group and the album details. An SM Entertainment spokesperson said of Sooyoung, "No matter what you ask of her, she figures it out with a mistake, proficient and adept at communication and an overall outstanding member."
Sooyoung first debuted in the entertainment world in 2002. For two years, she was picked to be the Korean counterpart of a group called "Route 0", formed through the 'Korea-Japan Idol Project', and released three albums. Due to the fact that its been seven years since her debut, Sooyoung can be considered as a seasoned veteran. Concerning those early days, Sooyoung recalls, "I became an entertainer at such a young age, when I really didn't know anything at all. There were many times where I was lonely, performing and doing activities in a foreign country. I still remember alot of memories times spent with the CSJH members as we wandered around the city."
Due to her experience in the entertainment world, she's developed the nickname of "old kid". Amongst the members, she is the most well-mannered and respectable. SNSD member Yuri says of Sooyoung, "More than anyone, Sooyoung is the member most devoted to justice and what's right. When there's something that everyone else hates to do, she'll get up and do it, and if there's some sort of conflict, she'll get up right away and set it straight."
Sooyoung said "I've always had a lot of ambition. So that's why, although I enjoy activities as a singer, I also have a lot of interest in acting. I want to try this and that and everything in between. I have a lot of curiosity."
Even amongst the members, she boasts the tallest height (170 cm) as well as an attractive and mature appearance. With her good stamina and an abundance of energy, her dance ability is outstanding as well. In 2003, she gained a lot of attention for her amazing dance skills in a certain cell phone commercial.
Says Sooyoung, "Although its very joyful and fun being with SNSD, it's still a shame that we haven't been able to show you all the capabilities and individual colors of all nine of us yet. I want to show my refreshing charms to more and more people. While I'm at it, I want to become the best as well. Isn't that worth being a bit selfish over?"
"I Learned my Rich Dialect Accent from my Grandmother"
SNSD leader Taeyeon (20). No matter where you look at her face, she looks like she's so young, but once you talk with her, you can feel her maturity and adult mentality. Perhaps that's why she was chosen as the leader? If you listen to her MBC FM4U radio program "Kangin, Taeyeon's Chinhan Chingoo", the first thing you notice is Taeyeon's natural ability for speaking. Moreover, she's a "brave and valiant" idol, who isn't afraid of spoiling her image as an idol star.
Taeyeon was born and raised in Jeonju. She moved up to Seoul during middle school once she became a trainee for SM Entertainment. She said "I don't like routine. It's uncomfortable. Whether its on a show or on stage, I work hard to be natural and sincere. Oh and when I occasionally talk in an accent on shows, I'm imitating my grandmother. I act like a grandmother a lot of times. Haha."
Before she moved up to Seoul, she had never left her hometown. "The three years as a trainee was a really difficult time, because I didn't know when I'd debut. No matter what, I just wanted to be on stage. I just wanted to sing," says Taeyeon.
She talked to her mom on the phone very frequently during those times. However, Taeyeon's mom was unsympathetic. "There were many times where she would say 'You worked that hard and strugged that much to go there and now you're going to act weak?' There were many difficult times but I think I was able to become stronger through them. I'm the SNSD member with the longest dorm life, but that's probably because I was able to hang in there that much longer."
She says "I never knew that Gee would be this well-received this quickly. I've heard that it reminds them of the idol stars from the 90's and so maybe that's why its able to reach across a wide range of ages. Should I call it an energetic and bright feeling? It's a motif made from SES."
As the leader, she makes the SNSD members practice their individual talents. She says "When the members come on radios or variety programs on TV, we receive alot of requests to show our talents but occasionally, it becomes a bit awkward after we do them. I think you should always be equipped with a few imitations and other talents. But of course, singing and dance practice is our main priority."
"The dance we do as we spread our knees from side to side, called the "crab dance" is receiving a lot of love, but we never thought it would", she says, with her eyes widening. "Even as we were filming the music video, we weren't trying to make it obvious or anything. We were all sure that the "G" dance we do with our fingers would become popular, but surprisingly, it became the "crab dance" instead. Our fans gave it that slightly embarassing name."
"Even after ten years, I want to still be singing," she says. Although she has the many skills to exhibit in other areas, her foundation will always be as a singer.

Jessica – "Hearing My Voice in front of an Audience Moved Me"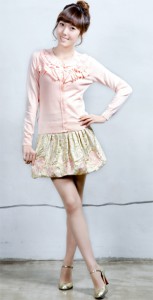 Jessica is the member who reinforces and strengthens SNSD with her incredible singing ability. However, you cannot deny her beautiful feminine appearance as well. Of the two, which does Jessica place more emphasis on?
"A song becomes a SNSD song when all nine members' voices go into it. However, I want people to be able to recognize my voice amongst them all. I want people to remember me as a person who, first and foremost, sang well," says Jessica. She emphasized her priorities as "between dance, singing, and acting, if I had to pick just one, I would sing."
After being born and raised in San Francisco, USA, she was visiting Korea for a short while when she was casted by SM Entertainment. It was at the Blue Hill Department Store (now the Lotte Department Store) in Bundang. "At the time, I didn't really have any intention of becoming an entertainer. I didn't even know who H.O.T, the most popular top star at the time, was," she says, laughing.
"I was bored so I visited the company office and learning how to sing and dance seemed fun. So I thought 'Hey why not give this a try'. However, what really captured me was when all the trainees get together and do a showcase, and when I first heard my voice go out in front of the audience, I was moved. Before I got on stage, I was incredibly nervous but right when I touched the mic, all of that anxiety disappeared."
Her whole family moved from America to Korea to be with their daughter as she lived her dream of becoming a singer. Since her family was close to her, her long trainee time was not that difficult. Even while receiving her training, she received high grades at her school, a school for foreigners. All of her grades throughout her studies were either an A or a B. When I asked her, "Then doesn't that mean you were number 1 or number 2 at your school?", she answered "Well, in foreign schools, they don't rank like that. But I never received below a B in school."
"It seems that the SNSD members have become more mature and free. At first when we debuted, none of us could look into the camera comfortably. But now, all of us consider the stage to be the most comfortable for us, so its a great development for all of us."
You can see this reflected in the recent success of "Gee". Jessica remarks "We recorded no less than thirty songs and at the end, we picked five to be in a mini album. We came forth bravely with this all new style and I think we've seen good results from it."
Sunny – "You say I'm an Idol? Aigo, I've become an Ajumma."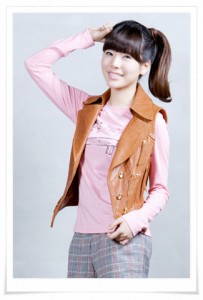 As soon as SNSD member Sunny (20) arrived at the interview location, she waves her hands around as she airs herself down. She explains herself, saying, "I just came from recording the female version of "1 Night 2 Days" for a cable channel. I had to catch a chicken, chop firewood, and I hung my life down for a gamble game." She listed out her fellow sunbaenim entertainers that were on the show, from Kimsook to Jung Jungah, when she suddenly adds "Oh, I can't forget Kwon Jinyoung sunbaenim's name either. I'd feel bad." Seeing that, I realize her delicate personality and nature.
When I ask her why she thinks "Gee" is receiving such great love these days, she replies "It really draws out the emotions of girls and it matches so well with SNSD. People around me tell me that you can really feel SNSD's energy through this song."
"And towards the future as well, the most important thing is that we don't forget where we came from. We shouldn't lose our united hearts. And there is no business unless we are trying our best."
Is there no competitiveness amongst the members? She answers, "I don't remember a time where our feelings were seriously hurt because of each other." However, there are times when you can see sad faces on some of the members. "There have been times where a member would be disappointed and blame themselves for a mistake they made on a show or on a performance. At those times, the other members work really hard to comfort them but ultimately, its a problem that's usually fixed through time."
When I ask her about her feelings towards the Wonder Girls, who debuted around the same time as them, she replies "We both well acknowledge that our charms are different from each other. Compared to them, we are simple and girly and ordinary. There is no feeling of competitiveness at all. Since they are the same age as us, I just want to become better friends with them."
Being that she first auditioned when she was in elementary school, she doesn't have an exact recollection of the precise time when she started her trainee life, since she had been preparing for that long of a time. Before she came to SM Entertainment, she had been preparing to debut as a duo under another company, but when that did not work out, she had felt hopeless. "I realized that the world doesn't always work out the way that my heart wanted it to. I think it's important to just live your life humbly."
Seohyun – When I look in the mirror, I'm not that pretty so I'm sad"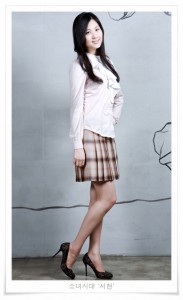 SNSD's maknae Seohyun (16)'s nickname is "Kiddie Seohyun". If you mention the cartoon character "Keroro", her eyes brighten up, and her round and chubby cheeks still seem like a child's. However, the members have some different opinions of her.
"Seohyun looks like a child, doesn't she? But if you get to know her, she's a complete grandma! She doesn't eat any fast food because she's afraid it's bad for her health and she purposely eats things like chunggook jang (fermented soybean soup)." (Hyoyeon)
"Seohyun is the one who received the most love from all of us. If you look down on her just because she's young, you're making a huge mistake. Her personality is one that has definite conviction and strength of character, so she also has a strong sense of self-assertion. When the rest of us get all worked up and distracted and loud, she's the one who quietly organizes us and calms us down." (Sooyoung)
The grandma-like maknae Seohyun was born in 1991. She grew up as an only child. The other members testify of Seohyun that she "never eats anything that is bad or harmful fo your body, and if she does, she always regrets it later and she always works hard so she doesn't cause people any stress." She also packs vitamins and fruits for the other members in her bag and passes them out to them later, like a mother. Seohyun explains, "I've always been a healthy and strong girl. So of course, I want to take care of the other unnies who are weaker than me."
Thanks to her mother, who is the chairman of a piano school, she grew up playing around on the piano. Even now, she boasts the strongest piano skills amongst all th emembers. "As I watched the Japanese drama 'Nodame Cantabile', my heart would tremble. If I get the opportunity, I would love to go abroad and receive more organized training," Seohyun aspires. "After I grow up a bit more, I really want to try composing vocal or classic music together and creating a song."
Although she's just as pretty as anyone else, she considers herself to be 'unattractive'. "All the other unnies are so pretty, you know? I want to hurry up and become pretty. Right now, I just look like some little kid so I don't really like it," says Seohyun, opening her eyes wide as she talks. Seohyun, you just hurt hundreds of unnies with those words, did you know that?
Born with Dancing DNA, Hyoyeon the Dancing Whiz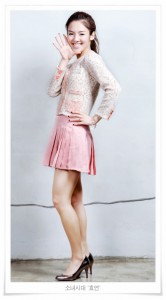 Hyoyeon (20) was born as a dancing whiz. The place where she always shines the brightest is on the stage. Any movement it is, when she does it, it becomes that much more flexible and impressive as she makes it her own. Could she have a "dance DNA" inside of her?
"Even since I was little, I danced well. Whenever music came on, my body would automatically start to move and my parents were always surprised by me. And no matter how long I danced, I never got tired. Probably even compared to average guys, I have better stamina than them, and can dance longer than them.
Her husky voice. As she talks, her eyes sparkle and laugh. Yoona says of Hyoyeon, "If we have unnie around, then we're never bored. She's so playful and laughs so much that its hard to really explain." Responding to that, Hyoyeon says "Eh, but if you ask me to do it on the spot, I can't. Maybe that's why I'm weak on variety shows?"
Like a true dance whiz, Hyoyeon has learned dance from some of the world's greatest dance teachers. Whenever The Electric Boogaloos, the famous dance teachers for Michael Jackson, came to Korea, they taught Hyoyeon. Hyoyeon says "From them, I learned how to envision the movement in my head and then directly transfer that image onto my body. Whenever I can move like how I envisioned in my head, I always feel so tingly with happiness."
Hyoyeon declares that "My dream is to dominate the stage. I always look forward to maturing and developing more with SNSD. I want to show an explosive and charismatic stage presence while we're performing."
She always has interest in fashion and has a greed to try in that business as well. "I think it would be nice to to show off an extravagent look like Jennifer Lopez. Actually, more than anyone, I have a large heart to try out my hand as a fashionista. Keep watch over me for a little bit and you will soon see a remarkable transformation."
Yoona – "If you get to know me, I'm quite emotionless. Is that surprising?"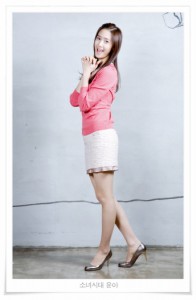 "Everyone thinks that I have a really sweet personality, but I'm actually quite emotionless. I've never told my mom and dad that I loved them. I don't have any aegyo. Is that surprising?"
Casually, SNSD's Yoona (19) starts off the conversation like that.
No matter where you look, she's the heroine with the sweet appearance. A 19 year old girl, with a face smaller than your palm, pretty eye lashes longer than a bow, and small and delicate lips sits in front of me. The voice that springs from her mouth has clear and crisp pronunciation. This must be the dream girl of all the men in the Republic of Korea. However, her shocking statements do not end there.
"I've heard many times that I have a strong personality. If I get mad one time, then it's hard for me to hide that emotion. If I get angry, it immediately shows on my face, and everyone gets surprised. My blood type is B, you know? It's a personality that really doesn't match well in the entertainment world, so I'm working hard to fix that, but it's not easy."
Even as she says that she has a strong personality, Yoona is smiling brightly. Ever since she was born, she must have been complimented so many times that she was pretty that it must have gotten annoying for her. Ever since she was in elementary school, she says she had a dream of becoming an entertainer.
She auditioned in elementary school for SM Entertainment, singing Wax's "I ask you" and dancing a "random dance" to Britney Spears' "Oops I did it Again". She was a trainee for five years, receiving singing, acting and dance lessons every day and filming CFs whenever she received the opportunity. An SM Entertainment spokesperson says of Yoona, "The Yoona that came to our audition was the perfect image of a girl that we wanted. A kind face like a good student, a bright smile, perfect physical condition, plus singing ability, all inside an elementary school student.
Yoona's image was a huge help to SNSD's concept as your next door girl students. Imagine these calm and kind female students coming towards you, confessing that "they were shocked and their bodies trembled with love" (the words from Gee). The thirty and forty year old men can't do anything but just melt in their presence.
However, Yoona says "If you think you've seen all of SNSD, you're wrong. More than anything, SNSD is a team excelling in strong performances."
"We practiced dancing and singing more than hundreds and thousands of times. And amongst idol groups, we work even harder to have a clear and sophisticated harmony to our sound. More important than being sweet and bright is the ability to display many different types of music, and we are working hard so that we can become like that."
Yoona acknowledges that she has not yet shown even 1/10 of all the abilities that she has. "Ever since I was little, I really wanted to become an entertainer, but I still feel like it hasnt all come true yet. I didn't just have a fleeting dream of becoming a celebrity, but I want to calmly and for a long time, become a respected entertainer, and I am working hard to reach that goal." Acting as "Saebyuk" in KBS 1TV's "You are my Destiny", and coming out in numerous CFs is her test for her abilities to see how much she can do. Although it was difficult to act as an overworked and scolded housewife, "singing and acting both come with responsibilities so I can't judge on which is harder and which is easier. It was just joyful being able to work hard every moment." Seeing her respond like that reminds me that one should not judge Yoona as a mere immature 19 year old girl.
Her hobbies are unexpected as well. She reads cookbooks by herself. Although there isn't a recipe that she knows how to do by herself, she says that its joyful just reading and looking at it. "Later when I become thirty, I will go to cooking school and receive certification and cook this and that. Who knows, maybe then I'll be founding a cooking school studio?
Yoona says that she has more interest in 'growth' than in love or relationships. "There are so many things that I want to do. I get more exciting thinking about all the things that I haven't done yet than about meeting a boyfriend. Is there a law that says that girls my age should only be writing love letters? I have more interest in writing my autobiography. Is that surprising?"
original: Song Hyejin and Choi Seunghyun@ chosun.com
translations: boxclub@ soshified.com/forums

Yuri's and Tiffany's are here — Yuri & Tiffany's, done by cathode and bug