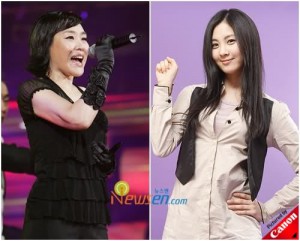 SNSD's Seohyun and Ju Hyunmi are releasing a new trot song.
Ju Hyunmi and SNSD's Seohyun will reveal song writer Kim Dohoon's song 'JjaLaJaJJa' on the 17th at 1 on Mnet.com. Once the song is released , the two are planning to promote the song through broadcasts for around 1-2 weeks.
'JjaLaJaJJa' has a light trot rhythm and a refrain of 'JjaLaJaJjaJjaJja' which all Korean citizens could enjoy regardless of age. The music video will feature the 80's best hi-teen star Im Yejin and SNSD's Yuri, going for the meeting of the old and new.
It is planned to have the motive of 'Love Room's Guest and Mother' and show a comical love triangle between a teacher.
After the debut of 1985's 'Raining YoungDongGyu's, for 24 years Ju Hyunmi kept the title of 'Trot Queen' and having the best popularity of 2009 with 'Gee', group SNSD's Seohyun makes up the best collaboration of the old and new of the music industry, gathering lots of interest.
translations by juhyun ♥@ soshified.com/forums
article by Reporter Lee Hyunwoo
edit—
so i was checking other articles on this topic and it turns out, the song was suppossed to be released 2 months earlier. so back in december. they had to release the song 2 months later bc of the music video shooting and because of the title or something. the writer of this trot song also wrote kim jongkook's 'tomorrow more than yesterday', sg wannabe's 'with me' and 'sin and star'.