Ivy, Comes Back to the Music Scene as SNSD's 'Dear Mom' Songwriter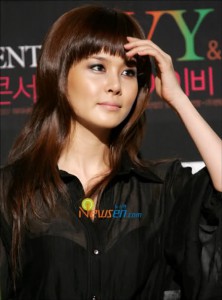 [NewsEn Reporter Kim Hyongwoo]
Singer Ivy has come back to the music scene as a songwriter.
Last January 7th, Ivy appeared as a songwriter in SNSD's first minialbum 'Gee' song 'Dear Mom'. She used the pseudonym 'The Lighthouse' to write the lyrics of 'Dear Mom'.
She said, "I used a pseudonym because of the great pressure I felt from the public". In addition, she wrote this song together with her boyfriend Kim Taeseong. Ivy wrote the lyrics and Kim Taesong composed 'Dear Mom', a song in that express the feeling of a daughter towards her mother.
SNSD's management cleared, "since there are many people in the music industry that use pseudonyms, we didn't revealed who was the songwriter of 'Dear Mom'".
[…]
Kim Hyongwoo cox109@newsen.com
Translated by Cph@soshified.com
Source: NewsEn