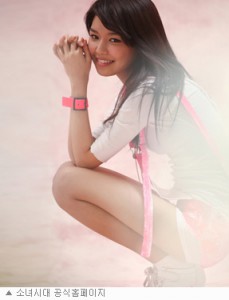 Group SNSD's member Sooyoung's real sister will be revealed in 'Introducing star's friend'.
Sooyoung's sister Choi Soojin contributed with her good looks in MBC's 'Introducing Star's friend'. With looks that are just as good as her sister's, Sooyoung's sister has catch netizens' interest before the broadcast in blogs and online cafes.
MBC producers have pointed that, if all recording goes as planned, we will be able to see Sooyoung's sister Choi Soojin on the coming 7th.
Source: Maxmovie.com
Trans: Cph@soshified.com