[19.01.09] SNSD Album Sales Zoom with Gee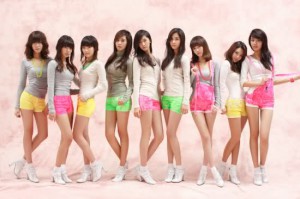 With the booming popularity of "Gee", SNSD's first album has even had a burst of sales.
SNSD released their first mini album on the 7th, titled "Gee". As soon as this album was released, it immediately went to number one on both on and off line charts, ensuring that they will occupy the music industry in this new year.
With this explosion of popularity, their first album that was released in November of 2007 has also had an increase of album sales.
According to offline album chart research company Hanteo, within ten days of release, "Gee" has sold over 30,000 copies. According to their agency SM Entertainment, they have sold nearly 65,000 copies. Note that there is a difference between the number of album sales reported by Hanteo, which utilizes a sample survey in order to get their numbers, and SM Entertainment, who gets their numbers from the number of albums shipped out to the stores. The most accurate number would be the aggregate of the two.
With the release of "Gee", their first album sales have spiked as well. According to Hanteo charts, their first album sold over 4,000 copies in January thus far. From January 5th to the 13th, it occupied the 9th and 10th place positions on their ranking charts. It is believed that their actual sales will have surpassed this.
It is extremely rare for an album that was released a year and three months ago to still be ranked in the TOP 10, thereby proving the incredibly popularity of "Gee".
An industry analyst said "You can tell that SNSD has garnered many fans after their nine month hiatus. No longer can you refer to SNSD simply as just an idol group but a top national group with mass appeal. The SNSD brand is no longer just a temporary trend as they have established themselves with having long lasting permanent value for consumers across the nation."
credits to Newsen & boxclub @ http://soshified.com/forums